Hi, i'm starting this topic because i've just noticed that very soon will start a new drama with Shin Eun Gyung (My wife is a gangster 1 and 2, Diary of June , Blue, ect.)
http://wiki.d-addicts.com/Bad_Couple
She has a lot of movies, maybe more recognized for my wife is a gangster 1 and 2, but so far i've also seen "Diary of June" (2005) (great movie) and Quiz King.
This is Shin Eun Gyung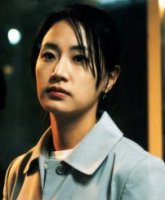 http://wiki.d-addicts.com/Shin_Eun_Gyung
I really like a lot this actress, she has a smile that kills me, for real. On "my wife is a gangster" she plays as a not very femenine gangster, but (even more in my wife is a gangster 2) you can still notice how beautiful she is hehehe, and again, her smile really kills me
and i also think she is a very, VERY good actress
The other starring role in this drama is from Ryu Soo Young, i really don't know too much about this actor.
But anyways, i just hope someone around is a fan of Shin Eun Gyung like me, and if we're lucky maybe someone upload and sub this hehehe.
Well, that's all, this was mostly about Shin Eun Gyung hehe, sorry