VIXX (빅스 pronounced "viks"; acronym for Voice, Visual, Value in Excelsis) is a six-member South Korean boy band, signed under Jellyfish Entertainment. All members participated in Mnet's survival reality show MyDOL and were chosen via an elimination system through viewer votes. The name, VIXX, was also chosen by viewer votes.
VIXX consists of
N (leader, main dancer, vocalist, real name 차학연 Cha Hak Yun (Cha Hak Yeon))
Leo (main vocalist, real name 정택운 Jung Taek Woon)
Ken (main vocalist, real name 이재환 Lee jae Hwan)
Ravi (rapper, song writer, real name 김원식 Kim Won Sik)
Hongbin (vocalist, real name 이홍빈 Lee Hong Bin)
Hyuk. (vocalist, dancer, maknae, real name 한상혁 Han Sang Hyuk)
From left to right:
Ravi, Ken, Hongbin, N, Leo, Hyuk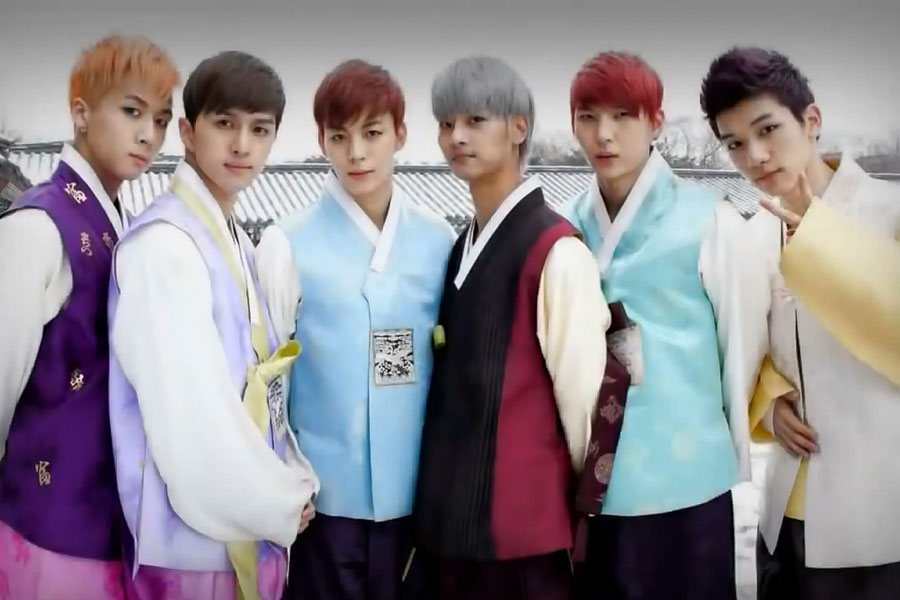 They are predominantly known as a concept or performance group whose music, lyrics, choreography, and overall stage performances are crafted together to tell a story or concept. (quoted from
Wikipedia
)
While they had their debut in may 2012, it was sometime in 2013 that they came on my radar, with the first song I ever heard them perform (together with another group, Okdal):
Girls, why? (link to music video on youtube)
The lighthearted musicvideo, with the nice sound of the music and their voices lingered in my mind, and I began looking for more of VIXX. As far as I know, they alternate light uplifting concepts with more darker ones. I like the light ones, and even some of the darker concepts. (I'm not particularly a fan of horror movies
, so the Voodoo Doll MV was a bit extreme for me)
Anyhow, while looking for more I came across, (links to musicvideo's on youtube)
They also can sing IMHO more serious songs like
Thank You for Being Born
and
I Don't Want To Be An Idol
.
I'm not a Starlight (as their fans are called), but yes, I like their singing voices and even the rapping voice and how they mix together, but I think I've got a weak spot for Leo's singing voice. He and Ken sing the solo parts in
I Don't Want to be An Idol
. Leo also sings a duet with Lyn in
Blossom Tears
. On Youtube you can also find clips of Leo performing on stage in the musical
Full House
(april - june 2014), even while those clips are not the best, it gave me a good impression as of how his voice would sound in a live performance.
Ken has also performed in onstage musicals, and for the drama viewers amongst us: N (Cha hak Yeon / Cha Hak Yun) has recently played a role in the drama
Sassy Go Go
, while Hongbin plays in the upcoming drama
Moorim School 무림학교
(broadcast period: mo - tu, 2016 jan 11 - 2016 mar 15)
As said, I'm not a Starlight (at least ... not yet), so I don't press F5 continuously to see whether there is some news about VIXX. However, every few months (sometimes a bit longer when I'm busy, like in the past few months) I check whether there are some new developments.
So last week I found out that
VIXX has made a comeback in november (Chained Up). (Ah, need to check that out)
They had brought out a Japanese song Can't Say (EDIT: you have to find this one yourself, sorry)
And that a sub-unit of VIXX had debuted in august, VIXX LR.
That's where I went: Hey, a subunit called VIXX LR? Who's in it? Leo and Ravi???
At first I thought it was a strange combination, the quiet singer Leo with the outspoken rapper Ravi.
Until I heard and saw their music video
Beautiful Liar
And I was like ...
Oh...
My....
There's the saying that opposites attract, but
Beautiful Liar
is IMHO an example in extremis. For me, the synergy of L & R went off the scale. It's also one of the few instances that I've heard Ravi sing, even if it's just a few lines. But his bronze baritone mixes very well with Leo's high and silvery tenor. The MV has layers and layers of meaning and symbolism. Whoever thought out that visual imagery... well, (s)he has my respect. Because in my opinion the imagery represents the lyrics extremely well. Combined with the poignant singing voice of Leo, the intense rapping of Ravi and the intensity of the acting of and between Leo and Ravi, it could deliver it's message to me, even while I do not understand Korean.
Online you can find whole amounts of analysis of the music video in combination with the lyrics of the song, so I won't go into that again. I'll just say that this song was able to bring adult men (male persons) to tears. Including me.
After having heard Leo sing in
Beautiful Liar
I sincerly thought: "If it's possible to fall in love with a singing voice, then I'm really busy with falling...."
(Also said something of that gist, and my gf heard it... she thought I was cheating on her
, that misunderstanding is luckily cleared tho...)
I'm fervently hoping that VIXX LR will produce some more songs. They've set the bar quite high for their future productions though.
And ofcourse I hope that VIXX will continue to bring out good songs in good health and still have fun doing it, so that we all may continue enjoying their songs and music. (Did I mention that Ravi is doing some songwriting and/or composing and Leo has started too?)
Well, this was just a bit on VIXX, a quite recently formed group, dedicated to their work, that I found worthy of my (and who knows, maybe your) continued interest. Or should I just say that they've got a special spot in my heart? mmm....
BTW, if you see any mistakes that I've made, concerning, VIXX, VIXX LR or the members, feel free to correct me.
[EDIT: been checking the links, and some don't work anymore, probably to do with copyright etc *sigh*)