KeyHoleTV
is a Windows and Linux
P2PTV
application that broadcasts all the regular Japanese TV channels (with the exception of NHK) and the occasional American channel, webcam, or whatever random thing that might pop up. With this program, you can stream Japanese channels in real-time. The quality of the audio and video isn't that great, unfortunately. The sound can be downright terrible, especially when music performances or loud audiences are involved. But overall, it's decent enough to hold us over until the show is uploaded or a better-quality alternative comes along.
To install, go to
http://www.v2p.jp/video/Viewer/
and download the latest installation file. It's updated somewhat often, so you may want to check back now and again.
The program is simple and pretty self-explanatory. To watch a channel, double-click the channel you want under the Program tab and you are set.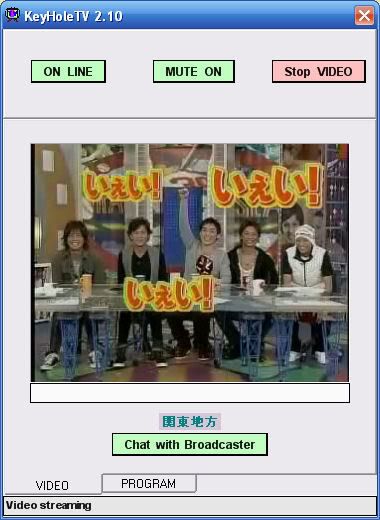 Double-clicking on the viewing screen opens up a separate viewing window, which may be resized by dragging the corners with your mouse or by using the keyboard's arrow keys. (The arrow keys keeps the size proportionate.)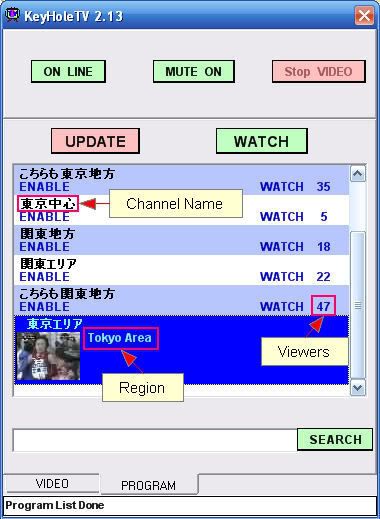 Channel Listing:
(frequently updated - current as of August 24, 2008)
Here's a little guide for identifying the channels -- find the channel by using the names/labels.

= Fuji TV

= NTV

= TBS
= TV Asahi

= TV Tokyo
Program Schedules:
TV Guide:
http://www.tvguide.or.jp/
Yahoo!Japan TV:
http://tv.yahoo.co.jp/
goo:
http://tv.goo.ne.jp/index.html
Infoseek:
http://tv.www.infoseek.co.jp/
MSN:
http://tv.msn.co.jp/
ONTV JAPAN:
http://www.ontvjapan.com/
KeyHoleTV English Homepage:
http://www.v2p.jp/video/english/index.html
And that's it. Happy watching!