Just few hours ago the first episode was aired. There are no english subs yet, so hurry up translators
. We are all curious to see Rain after a lon, long time, aren't we?
So . please wrtite down your oppinions, your expectations here.
[/img]
FUGITIVE: PLAN B , KBS2, 2010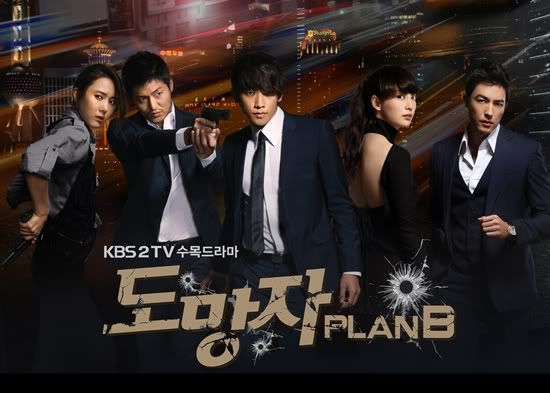 Title: 도망자 / Do Mang Ja
Also Known as: Runaway: Plan B
Genre: Action, romance
Episodes: TBA
Broadcast Network: KBS2
Broadcast period: 2010-Sep-29 to TBA
Air time: Wednesday & Thursday 21:55
During the Korean War, a vast amount of money disappeared. Now, some 60 years later, the money has reappeared, leading to a frantic chase across the globe. Jin Yi (Lee Na Young) is a seemingly innocent woman who has hidden motives for approaching Ji Woo (Bi). Her plans are complicated by an unexpected romance developing between them, as well as the numerous pursuers hot on their trail. Kieko (Uehara Takako) is a famous Japanese singer who also gets tangled up in a relationship with this man. Little do they know that her father Hiroki (Takenaka Naoto), apart from being a business man, is a powerful yakuza. In this love triangle, who will finally win the love of Ji Woo?
Cast
Bi as Ji Woo
Lee Na Young as Jin Yi / Jini K.
Lee Jung Jin as Chief Detective Do Soo
Yoon Jin Seo as Detective Yoon So Ran
Daniel Henney as Kai
Sung Dong Il as Nakamura Hwang
Yoon Son Ha as Hwang Mi Jin
Takenaka Naoto as Hiroki (Kieko's father)
Uehara Takako as Kieko
Gong Hyung Jin as Master Jang
Josie Ho as Hwai
Jo Hee Bong as James Bong
Ti Lung as General Wie
Song Jae Ho as Yang Doo Hee
Kim Eung Soo as Yang Young Joon (Doo Hee's son)
Danny Ahn as Baek Nam Jung
Kim Hyung Jong as Detective Kim
Jung Seung Kyo (정승교) as Detective Lee
Kim Soo Hyun (김수현) as Detective Park
Kim Soo Hyun as Sophie / Im Bi Seo
Oh Ji Ho as Kevin (cameo)
Han Jung Soo as corrupt detective (cameo)
Lee Jong Hyuk as projection room interpreter (cameo)
MBLAQ (cameo)
Production Credits
Director: Kwak Jung Hwan
Screenwriter: Chun Sung Il (천성일)