Official Title : 추노 (Chuno)
English Title : Slave Hunters (other variants: Pursuing Servants)
Genre: Fusion Sageuk
Main Cast : Jang Hyuk, Lee Da Hae, Oh Ji Ho, Lee Jong Hyuk, Gong Hyung Jin, Kim Ji Suk
Supporting Cast : Here
PD: Kwak Jung Hwan 곽정환 (Conspiracy In The Court)
Scriptwriter: Chun Sung Il 천성일 (Grade 7 Civil Servant)
Production Company : Chorokbaem Media (초록뱀 미디어)
Broadcast Station : KBS2
First Broadcast : January 6, 2010
Broadcast Times : Wed-Thurs 21:55 (Korea Time)
Number of Episodes : 24
Official Site :
http://www.kbs.co.kr/drama/chuno/
Watching Live : KBS Able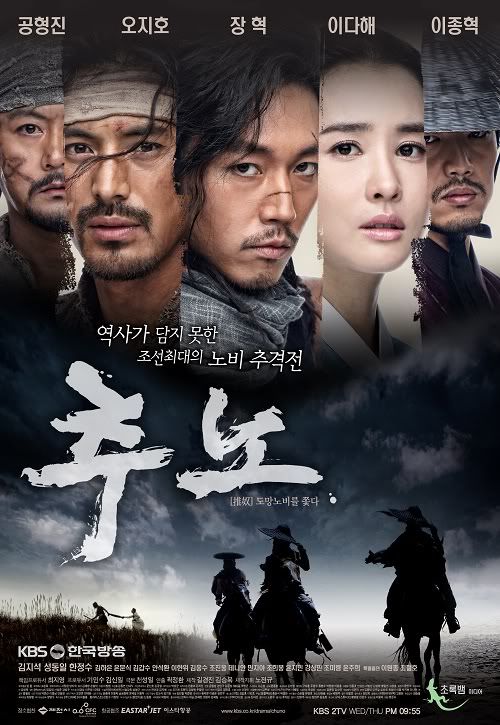 Soompi thread:
http://www.soompi.com/forums/index.php?showtopic=303202
Synopsis:
After the end of the war with the Ch'ing Dynasty (Manchu Invasion), slaves talk about joining an uprising of a righteous army. With a new king everyone would be made equal, living a decent life irrespective of social standing.
Keunommee, a slave, is excited but anxious as he joins the uprising.
Dae Gil, a son of a noble, and Un Nyun, a slave girl, are in love. One day Keunommee, Un Nyun's older brother, sets his master's house on fire and runs away with Un Nyun. Because of the fire, Dae Gil loses his family and becomes a slave hunter to catch Keunommee and Un Nyun. even so, Dae Gil still can't give up his feelings for Un Nyun.
Tae Ha, a general-turned-slave, escapes when he hears about Crown Price Seo Hyun being in danger. On the way he runs into Un Nyun who ran away on her honeymoon.
Dae Gil, the number 1 slave hunter in the country, is after Tae Ha.
The story of their entangled fate unfolds. *(taken from KBS Global Media, reworded by o-cha)
Subtitles:
With S2 has Chuno listed as their possible project
Thanks to soompi thread:)
Well, judging by the first episode, it is one hell of a great drama. The pacing was good, the acting was good, the storyline is great. Lets hope the ratings will be high enough and drama won't loose its pace.