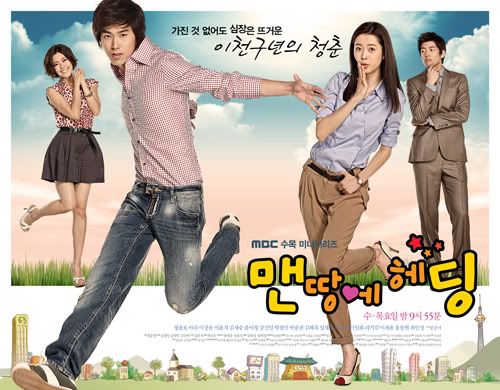 Title: 맨땅에 헤딩 / Maen-tang-e He-ding
Also known as: Heading to the Ground
Genre: Sports, romance
Episodes: 20
Broadcast network: MBC
Broadcast period: 2009-Sep-09 start
Air time: Wednesday & Thursdays 21:55
Official Site:
http://www.imbc.com/broad/tv/drama/manddang/index.html
Synopsis
The drama about a man trying to achieve what is thought to be impossible: fulfilling his dreams of being a great football (soccer) player. He meets Kang Hae Bin, a sports agent who tries to live her life away from the influence of her rich father.
Cast
Jung Yun Ho as Cha Bong Gun
Go Ah Ra as Kang Hae Bin
Lee Sang Yoon as Jang Seung Woo
Lee Yoon Ji as Oh Yeon Yi
Source: Information taken from its
drama wiki
page. All credits to the fine people who keep the drama wiki running.
I am new to K-dramas and so this will be my first ever K-drama that I will watch. The sole reason being that its kinda about football (soccer). I hope it turns out good!!!!!!
Gods of the East Subbing Squad are subbing this drama so I thank them for their time and effort
On a side note - Both South and North Korea have already qualified for the 2010 World Cup. Big whoop!