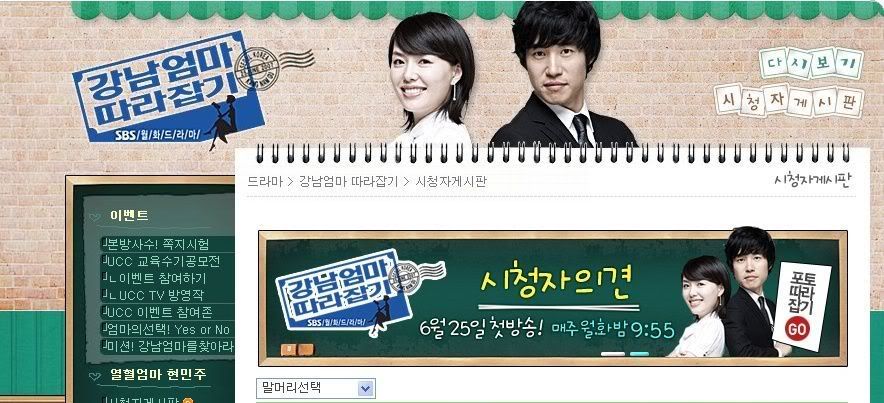 Title: 강남엄마 따라잡기 / Catch A Kang Nam Mother
Also known as: Chasing After Kang Nam's Mothers
Genre: Romance, Family
Episodes: 18
Broadcast network: SBS
Broadcast period: 2007-Jun-25 to 2007-Aug-21 [Completely]


Sypnosis :
Hyun Min Joo is a single mom who moved to Kang Nam for the sake of her son's education. Seo Sung Won is Min Joo's son's teacher and her tenant, who has looks and brains as well to make him a good catch in the eyes of many women. Han Soo Jin comes from a rich family background, and became a teacher with the purest intentions of wanting to provide an education for children. She is a physical education teacher and she becomes involved in a love comptetion with Min Joo for the affections of Sung Won.

Cast :
* Ha Hee Ra as Hyun Min Joo
* Yoo Joon Sang as Seo Sung Won
* Kim Sung Eun as Han Soo Jin
* Jung Sun Kyung as Lee Mi Kyung
* Im Sung Min as Yoon Soo Mi
* Park Eun Bin as Lee Ji Yeon (Soo Mi's daughter)
* Kim Il Woo as Do Sang Sik (Mi Kyung's husband)
* Lee Min Ho as Do Joon Ong (Mi Kyung's son)
* Kim Mi Ra as Choi Yi Young
* Choi Soo Rin as Choi Il Young
* Jang Jung Hee as Na Eun Mi (the school principal)
* Kim Hak Joon as Lee Chang Hoon
* Nam Yoon Jung as Jang Young Ja
* Jung Eun Pyo as Lee Tae Goo

TV Rating :
Official Site :
http://tv.sbs.co.kr/mother/
Wiki D-addicts :
http://wiki.d-addicts.com/Catch_A_Kang_Nam_Mother
Soompi Forums :
http://www.soompi.com/forums/index.php? ... 41233&st=0
Clubbox With English Subtitle :
http://clubbox.co.kr/W1S3