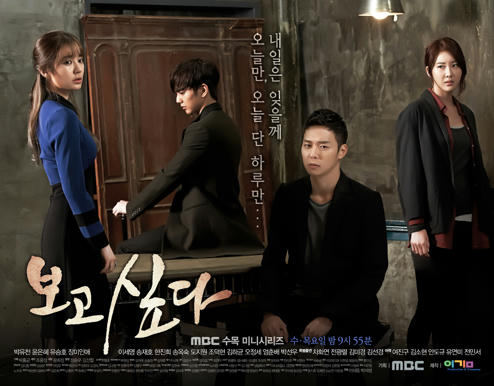 Title: 보고싶다 / Bogoshipda
Also known as: I Miss You
Genre: Melodrama, romance
Episodes: 20
Broadcast network: MBC
Broadcast period: 2012-Nov-07 to TBA
Air time: Wednesday & Thursday 21:55
Official Website
The drama revolves around a guy and a girl, who both experience a painful end to their first loves at the tender age of 15, and then meet again as adults by playing game of love hide and seek.
Han Jung Woo (Park Yoochun) has been a homicide detective for 2 years and he is looking for his childhood love. Lee So Yeon (Yoon Eun Hye) is a fashion designer and often dream of Han Jung Woo searching for her.
Meanwhile, Kang Hyung Joon (Yoo Seung Ho) is a cold-hearted, charismatic fund manager, who tries to take revenge on Han Jung Woo because of the troubled relationship within their family. --Koreandrama.org
Cast:
Park Yoochun as Han Jung Woo
Yeo Jin Goo as young Jung Woo (15 years old)
Yoon Eun Hye as Lee Soo Yeon
Kim So Hyun as young Soo Yeon (15 years old)
Yoo Seung Ho as Kang Hyung Joon
Jang Mi In Ae as Kim Eun Joo
Yoo Yeon Mi as young Eun Joo
Extended Cast
Han Jin Hee as Han Tae Joon
Song Ok Sook as Kim Myung Hee
Do Ji Won as Hwang Mi Ran
Cha Hwa Yun as Kang Hyun Joo
Jun Kwang Ryul as Kim Sung Ho
Kim Sun Kyung as Jung Hye Mi
Lee Se Young as Han Ah Reum
Production Credits
Screenwriter: Moon Hee Jung
Director: Lee Jae Dong
SUBTITLES HERE!
I'm on board!!