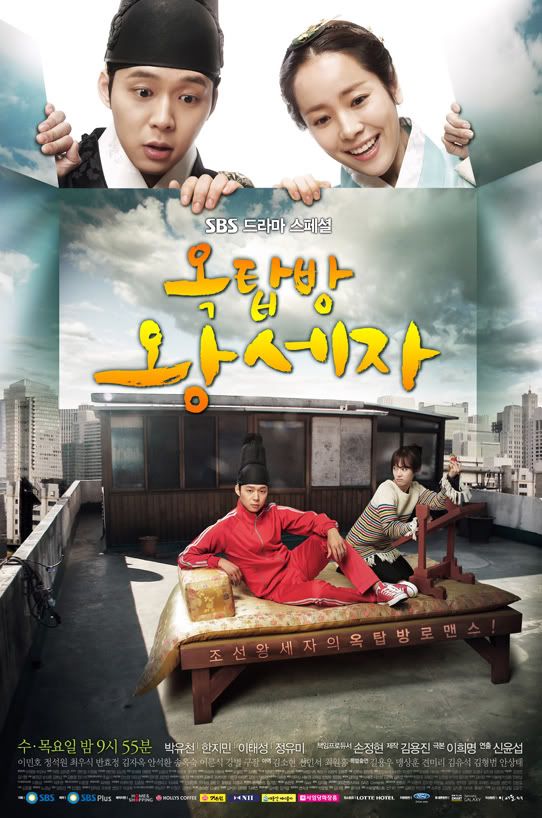 Drama Info :
Title:
옥탑방 왕세자 / Oktabbang Wangseja
Also known as:
Attic Prince
Genre:
Fantasy, comedy
Episodes:
TBA
Broadcast network:
SBS
Broadcast period:
2012-Mar-21 to 2012-May-??
Air time:
Wednesday & Thursday Night 21:55
Synopsis :
A prince from the Joseon era (Micky Yoochun) travels to the future in Seoul 2012 with his entourage (Lee Min Ho, Jung Suk Won, and Choi Woo Shik) when he lost the girl he was in love with. In the present, he finds a girl who looks exactly like the girl he loved and that passed away...
Cast
Micky Yoochun
as Lee Gak
Choi Won Hong as young Lee Gak
Han Ji Min as Park Ha
Jun Min Seo as young Park Ha
Lee Tae Sung as Sun Woo Ho Joon
Jung Yoo Mi as Joo Se Na
Kim So Hyun as young Se Na
Lee Min Ho as Song Man Bo
Jung Suk Won as Woo Yong Sul
Choi Woo Shik as Do Chi San
Lee Moon Shik
Kim Ja Ok
Kim Yong Gun
Ban Hyo Jung
Kim Yoo Suk
Kang Byul
Lee Won Jong
Official website :
Here
Drama Wiki
[VIDEOS]
Rooftop Prince Drama – Making of Promo Pics :
120209 Yoochun's Camera Test for Rooftop Prince