Yasuko to Kenji -
http://www.ntv.co.jp/yasuken/
from Tokyograph
"Yasuko to Kenji" adaptation stars Masahiro Matsuoka
Fri, May 30, 2008 (2:26am EDT)
TOKIO's Masahiro Matsuoka will star in a new NTV drama series called "Yasuko to Kenji." It is based on a comical manga by artist Aruko that was serialized in Bessatsu Margaret between April 2005 and November 2006.
The show focuses on a man named Kenji (Matsuoka) and his younger sister Yasuko, whose parents died in an accident 10 years earlier. Kenji was once the leader of a gang, but in order to support him and his sister, he began making a living as a shojo mangaka. His character normally wears glasses and appears to be a gentle guy, but he throws off his glasses and reverts to his violent side whenever he tries to protect Yasuko from danger.
Part of the story follows Yasuko's romance with an intelligent and good-looking man named Jun Tsubaki. Jun's older sister Erika now runs a flower shop, but Erika was once a leader of a female gang, and she used to be in love with Kenji during those days.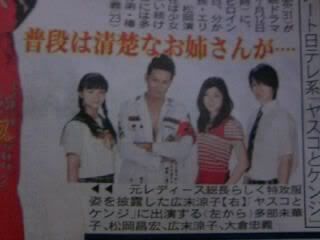 Finally the cast has been announced! Tabe Mikako will play Yasuko and Ohkura Tadayoshi will be her love interest Jun. Hirosue Ryoko will play Erika, Jun's sister.
this is definitely a great cast, cant wait to see how Ryoko-chan will play her role.
im also happy to see Mabo in another comedic role, hopefully he will have good chemistry with Ryoko and Mikako.
lastly, i hope Ohkura will shine in this drama, i barely noticed him in Utahime.