ive started the thread for Yukan Club, and i think a lot of people are excited to see this because it's Akanishi Jin's comeback drama after 2 years.
info on the Yukan Club manga
:
There's always a student council in every school. Even at St. President High School, where future leaders and society's best are educated. But, what exactly would 6 young members of the student council of President High School do in their spare time?
Oh, they dance, play igo, sing, solve a fake jewelry case, catch an international drug smuggler, sail to gamble in Las Vegas, and help kidnap one of their members. And that's just some stories from the first two volumes! Isn't that exciting?
Their parents are just as exciting as they are. One of their parents blow up a police headquarters and then rebuilts it later! And one of their parents is actually a top official that worked in the said headquarters!
Members of the Leisure Club
(1) Yuri Kenbishi, a sports lover, daughter of the Kenbishi Group
(2) Noriko Hakushika, a truetype traditional Japanese woman
(3) Granmarie Bido, half Japanese, son of Swiss ambassador
(4) Seishiro Kikumasamune, Noriko's neighbor, son of a hospital owner
(5) Miroku Shocikubai, son of an important police official, but hangs out with yakuzas, like to invent weird gadgets
(6) Karen Kizakura, a lively character, daughter of a jewelry businesswoman
Oh, what would life be without these guys? They make our leisure time colorful.
source:
http://community.livejournal.com/mangacast/509219.html
Yukan Club is one of the most popular Shojo mangas of all time, it sold 22.9 million copies and it has 19 volumes. source:
http://comipress.com/article/2006/05/24/161
Yukan Club Cast:
* Akanishi Jin as Shochikubai Miroku
* Yokoyama Yu as Kikumasamune Seishiro
* Taguchi Junnosuke as Bido Granmarie
* Minami as Kenbishi Yuri
* Kashii Yu as Hakushika Noriko
* Suzuki Emi as Kizakura Karen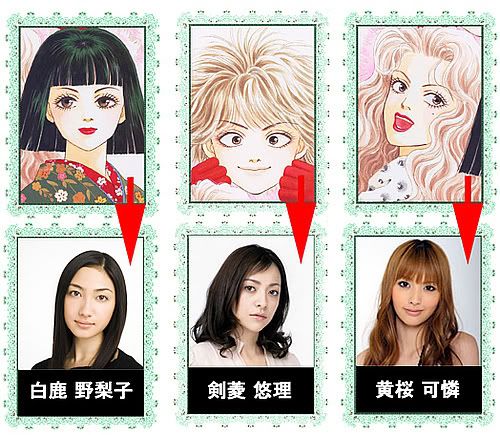 Zoomin News, Sept 18:
Yukan Club Drama Wiki link: http://wiki.d-addicts.com/Yukan_Club