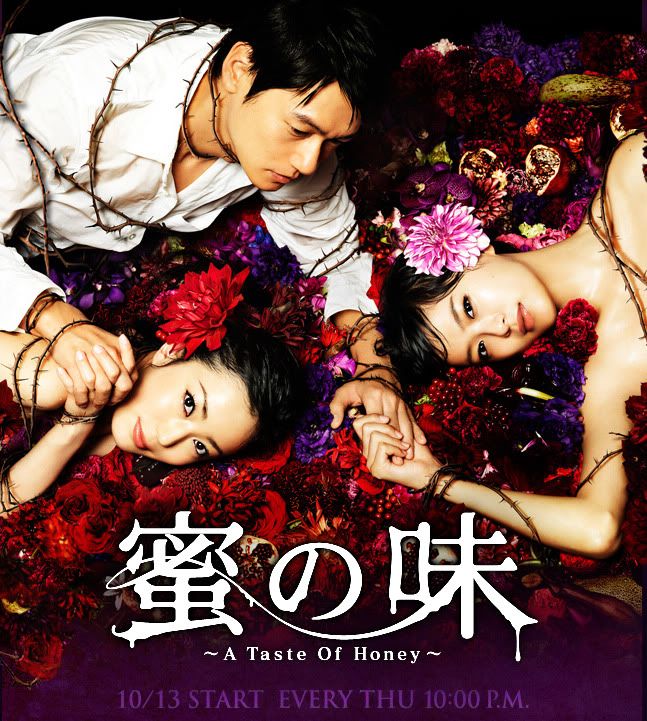 Title: Mitsu no Aji~A Taste of Honey~
Broadcast network: Fuji TV
Broadcast period: 2011-Oct-13 start
Air time: Thursday 22:00
Theme song: Zutto by aiko
Scriptwriter: Oishi Shizuka
Synopsis: Morimoto Naoko (Eikura Nana) is the only daughter of the owner of an olive farm that faces the Seto Inland Sea. She is in love with Ikezawa Masato (ARATA), a doctor who is also her father's young step-brother (different mothers). Masato was placed with relatives in Tokyo during his childhood and when he came back to his hometown, Naoko fell in love for the first time. Obsessed with him and willing to sacrifice everything, the passionate Naoko pursues him and qualifies for a prestigious Tokyo medical university. However, the Masato she has not seen in a while has a girlfriend, the beautiful and intelligent Harada Aya (Kanno Miho), who was his schoolmate in university. Aya was born the daughter of the director of a large hospital and can be said to have had a perfect life. Her presence brings anguish to Naoko, and she tries to let go off Masato. On the other hand, Naoko's appearance causes Aya to experience her first setback and be consumed with a jealousy she had not expected when the man she loves has a change of heart and the three of them get mired in a love triangle.
Cast:
Eikura Nana as Morimoto Naoko
Kanno Miho as Harada Aya
ARATA as Ikezawa Masato
Mizobata Junpei as Norisugi Yasushi
Morimoto Naoko's classmate at Towa Medical University. He takes an interest in Naoko's naivete from the first time he sees her, and grows attracted to her.
source:
http://jdramas.wordpress.com/
When I read the synopsis I thought this is gonna be another lame drama
But I watched Ep1 anyway, becoz I'm a fan of Kanno Miho.
Surprisingly, the story/script passed my standards. The first thing intrigued me is how the main girl and guy are uncle and niece (blood-related? shld be...). But slowly the story made me feel more and more curious. Some scenes has different and interesting directing. Best part of this drama besides Miho, is the themesong by AIKO, lovely! Minus parts of this drama are Eikura's so-so acting and the main guy lacks charm. Junpei is like a bonus for me