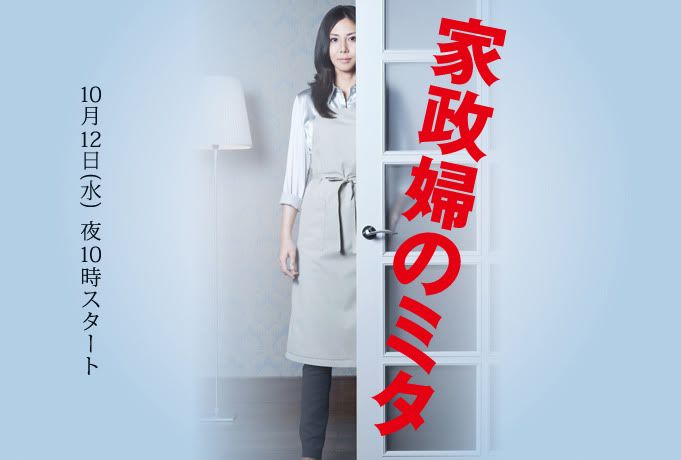 Title: 家政婦のミタ / Kaseifu no Mita / Mita, The Housekeeper
Broadcast network: NTV
Broadcast period: 2011-Oct-12 start
Air time: Wednesday 22:00
Theme song: Yasashiku Naritai by Saito Kazuyoshi
Screenwriter: Yukawa Kazuhiko
Ep1 Rating: 19.5%
Starring:
Matsushima Nanako as Mita Akari (the housekeeper)
Hasegawa Hiroki as Asuda Keiichi (the head of the Asuda family)
Kutsuna Shiori as Asuda Yui (Keiichi's 1st child, 2nd grade high school)
Nakagawa Taishi as Asuda Kakeru (Keiichi's 2nd child, 2nd grade middle school)
Ayabe Shuto as Asuda Kaito (Keiichi's 3rd child, 6th grade elementary school)
Honda Miyu as Asuda Kii (Keiichi's 4th child, kindergarten)
Aibu Saki as Yuki Urara (Keiichi's late wife's sister)
Synopsis:
Mita Akari (Matsushima Nanako), a stony-faced, taciturn, mysterious housekeeper who is like a robot, is sent to the Asuda family which suddenly lost their mother in an accident. Akari can do everything and give a customer satisfaction level of 120%. She cooks like a pro, does the work of housewives such as sewing and laundry, is good at all sports and can even give private tutoring for the university entrance exams. However, she is rumoured to choose her own jobs and never make friends with the families she serves. She arrives one morning after the 49th day of the mother's death and begins to live with the father, Keiichi (Hasegawa Hiroki), and four children (Kutsuna Shiori). Before long, problems within the family are revealed and the Asudas are on the brink of breaking up. She confronts the issues, and saves the family through her flawless work and cold, drastic measures. In the process, she starts to regain the feelings she had lost.
source:
http://jdramas.wordpress.com/