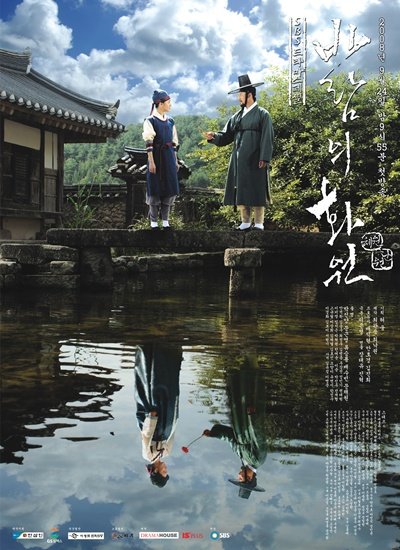 The Painter of the Wind



Tür:Tarihi dönem
Bölümler:20
Yayımlayan Şirket: SBS
Yayın Dönemi Ekim-Kasım 2008
Başroller
Moon Geun Young - Shin Yoon Bok
Park Shin Yang - Kim Hong Do
Park Jin Woo - Jang Hyo Won
Konusu
Shin Yoon Bok, bayan bir ressamdır ancak dizide babasının ölümünü araştırmak için kendisini Joseonlu bir erkek olarak tanıtır. Ona harika resimler yapmayı öğretecek olan ressamla karşılaşır. Kim Hong Do , Shin Yoon Bok' resim yapmayı öğretecek adamdır... Kim Hong Do ile aralarında da duygusal bir yakınlık olacaktır...
Shin Yoon Bok, gerçek hayatta var olan bir karakter olur dizi onun yaşamı üzerine şekillenmiştir. Ressamın diğer adı da Hyeon'dur.
Çevirmenler: moon87 & edaa
Yeppudaa Çeviri Çetesi
Translators: moon87 & edaa
YÇÇ
İngilizce altyazılar için Bimbibap Fansubs'a teşekkür ederiz.
Thanks to Bimbibap Fansubs for original English subtitles.
[spoiler] Details
* Title: 바람의 화원 / The Painter of the Wind
* Also known as: Wind's Flower Garden / Garden of the Wind
* Genre: Period, romance
* Episodes: 20
* Broadcast network: SBS
* Broadcast period: 2008-Sep-24 to 2008-Dec-04
* Air time: Wednesday & Thursday 21:55
Synopsis
Shin Yoon Bok is a talented painter who disguises herself as a boy to search for her father's murderer and meets a master painter who guides her into being a great painter. Kim Hong Do is the man who teaches Yoon Bok how to paint, and they develop a strong friendship of mentor and disciple.
Cast
* Moon Geun Young as Shin Yoon Bok
o Kim Yoo Jung as young Yoon Bok
* Park Shin Yang as Kim Hong Do
* Moon Chae Won as Jeong Hyang
Extended Cast
* Park Jin Woo as Jang Hyo Won
* Bae Soo Bin as King Jeong Jo
* Im Ji Eun as Queen Jeong Soon
* Park Hyuk Kwon as Lee In Moon (Kim Hong Do's friend)
* Ahn Suk Hwan as Shin Han Pyeong (Yoon Bok's adopted father)
* Lee Joon as Shin Young Bok
* Lee Byung Joon as young Young Bok
* Ryu Seung Ryong as Kim Jo Nyun
* Jung In Gi as Hong g**k Young
* Kim Eung Soo as Jang Byuk Soo
* Lee Mi Young as Mok Kye Wol
* Yoon Joo Sang as Kang Soo Hang
* Han Jung Soo as Seo Jing
* Lee Kyung Hwa as Myeong
* Han Yeo Woon as Jung Sook (Lee In Moon's sister)
* Im Ho as Lee Myung Ki
* Yoo Yun Ji
* Jung Yoo Mi
* Choi Soo Han
* Yoon Bong Gil
* Tae Hwang
Production Credits
* Executive Producer: Lee Young Joon
* Director: Jang Tae Yoo
* Assistant Director: Choi Young Hoon
* Original writing: Lee Jung Myung
* Screenwriter: Lee Eun Young (이은영)
Recognitions
* 2009 Seoul International Drama Awards: Most Popular Actress (Moon Geun Young)
* 2008 SBS Drama Awards: Daesang Award (Moon Geun Young)
* 2008 SBS Drama Awards: Best Couple Award (Moon Geun Young and Moon Chae Won)
* 2008 SBS Drama Awards: Female Young Star Award (Kim Yoo Jung) [/spoiler]