Gods of the East Subbing Squad presents...
Hard To Say I Love You / 素直になれなくて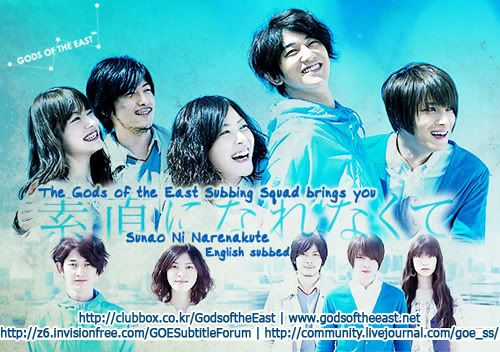 Credit: marisuza
Synopsis
A story about the blossoming friendship of five young people who meet on Twitter.
Cast
Eita as Nakajima Keisuke/"Nakaji"
Ueno Juri as Mizuno Tsukiko/"Haru"
Seki Megumi as Nishimura Hikaru/"Peach"
Tamayama Tetsuji as Ichihara Kaoru/"Linda"
Hero JaeJoong as Park Seonsu/"Doctor" (In Ep 1 to 3ish: Kang In Song)
Kinami Haruka as Park Minha
Nakamura Yuichi as Mizuno Shu
Sakamoto Shougo (阪本奨悟) as Matsujima Kenta
Ryusei Ryo (竜星涼) as Takahashi Masafumi
Aizawa Rina (逢沢りな) as Maeda Yuki
Watanabe Eri as Okuda Mariko
Yajima Kenichi as Yamamoto Tomohiko
Tanaka Tetsushi as Minehara Takashi
Tonesaku Toshihide as Shiraishi Takafumi
Asaka Mayumi as Ichihara Misako
Igawa Haruka as Yamamoto Kiriko
Fubuki Jun as Mizuno Sachiko
Nakajima Ryosuke as Kikkawa Koji
Credits to
Dramawiki
;
Official Site
Rules:
1. Please do not ever hardsub it and post it on streaming links. If we see anyone doing it, we will stop releasing softsubs.
2. Please do not upload our hardsubbed videos to any streaming site (youtube,dailymotion,veoh,megavideo,etc.)
3. Please do not pressure us. We have a life too, remember?
4. If you plan on uploading this elsewhere, PLEASE PM me or post here requesting to do so. Besides GOE;SS staff members, this is NOT to be uploaded anywhere else.
We will be releasing softsubs ONLY.
Episode 1:
Coordinator: jixji
Translators: arciawebb, rei_na
Spot Translators: rei_na, arciawebb
Timers: viruslove_dbsg, Nydia
Editor: badstar
QC: jixji, tvxqluv
Episode 2:
Coordinator: jixji
Translators: ssunsett, kimbuibui
Spot Translator: ~*izumi*~
Timers: viruslove_dbsg, samysa
Editor: seabiscuit
QC: badstar
Episode 3:
Coordinator: badstar
Translator : tvxq_luv, kimbuibui
Spot Translator: ~*izumi*~
Timer : Nydia
Editor: seabiscuit
QC: viruslove_dbsg
Episode 4:
Coordinator: tvxqluv
Translator: rei_na, ssunsett
Spot Translator: ~*izumi*~
Timer: Nydia, samysa
Editor: seabiscuit
QC: tvxqluv
Episode 5:
Coordinator: jixji
Translator : tvxq_luv, rei_na
Spot Translator: ~*izumi*~
Timer : Nydia, skipfire
Editor: seabiscuit
QC: jixji
Episode 6:
Coordinator: jixji
Translators: ssunsett, tvxq_luv
Spot Translator: ~*izumi*~
Timers: Nydia, skipfire
Editor: seabiscuit
QC: jixji
Episode 7:
Coordinator: jixji
Translators: rei_na, ~*izumi*~
Spot Translator: arciawebb
Timers: Nydia, skipfire
Editor: seabiscuit
QC: badstar
Episode 8:
Coordinator: jixji
Translators: whisperpuppies, ssunsett
Spot Translator: ~*izumi*~
Timers: samysa, Nydia
Editor: seabiscuit
QC: badstar
Episode 9:
Coordinator: jixji
Translators: tvxq_luv, arciawebb
Spot Translator: ~*izumi*~
Timers: Nydia, samysa
Editor: seabiscuit
QC: badstar
Episode 10:
Coordinator: jixji
Translators: tvxq_luv, rei_na
Spot Translator: ~*izumi*~
Timers: Nydia, samysa
Editor: seabiscuit
QC: badstar
Episode 11:
Coordinator: jixji
Translators: arciawebb, tvxq_luv & jeeelim5
Spot Translator: ~*izumi*~
Timer: Nydia
Editor: seabiscuit
QC: jixji
Credits to recca_cool for retiming these:
Sunao ni Narenakute - Episode 3 (1080i retimed)
Sunao ni Narenakute - Episode 5 (1080i retimed)
Sunao ni Narenakute - Episode 6 (1080i retimed)
GOE;SS fansubwiki
GOE;SS livejournal