Rinjo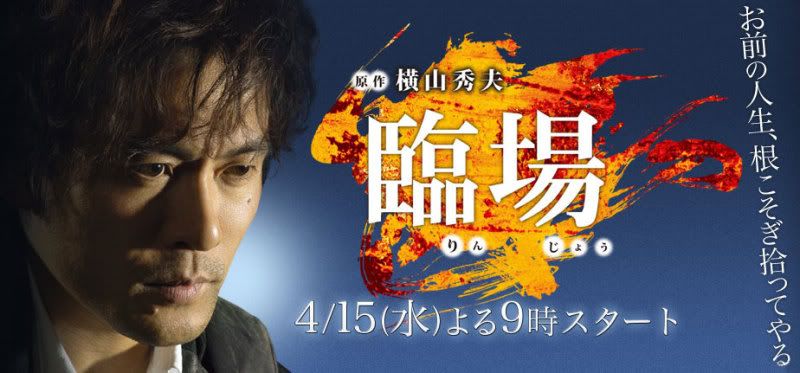 Genre
: Investigative
Episodes
: 10
Broadcast Network
: TV Asahi
Broadcast Date
: 15 April ~ 24 June 2009
Air Time
: Wednesdays, 9.00 - 9.54 pm
Official website
:
http://www.tv-asahi.co.jp/rinjo/
Wiki
:
http://wiki.d-addicts.com/Rinjo
Discussion thread
:
http://www.d-addicts.com/forum/viewtopic_72748.htm
Drama information
:
http://jdramas.wordpress.com/
PLEASE DO NOT hardsub or redistribute our work onto any streaming site such as YouTube, Veoh, Megaupload, Mysoju, dramacrazy.net etc.
This is brought to you by:
Translation
: jade_frost
Timing / Editing
: Kazuya_
Special thanks to:
gryzze and Vinny for the RAWs
All timings are in sync with the 1280x720 RAW but will also work with the 704x396 RAW. ass and srt formats are available but we recommend the ass.
Translation notes:
Keishichou refers to the Tokyo Metropolitan Police Department (MPD in the subs)
Episode 2
Petechiae: Pinpoint-sized round dots which result from tiny areas of superficial bleeding into the skin. The color varies from red to blue or purple as they age and gradually disappear. Petechiae commonly appear on the lower legs, but may be distributed all over the body.
Postmortem lividity: A sign of death. The settling of blood in the lower portion of the body causes a purplish red discoloration of the skin.
Stria: An impressed line or scratch.
Mito Komon: The lead character in a long running Japanese drama of the same name who is based on Tokugawa Mitsukuni. Mito Komon wanders around the countryside accompanied by faithful servants and helps those he finds oppressed by corrupt officials or evil landowners.
Episode 5
Ridge characteristics: Also known as Galton points. If more than 12 Galton points exist, then the certainty of a positive identification is beyond debate.
Latent print: Eccrine glands in the hands secrete sweat which adheres to the friction ridges of a finger and a fingerprint is left behind when the finger is placed on a surface such as glass, plastic or metal.
Episode 6
Arrhythmia: Abnormal rhythm or rate of heart beat. It is caused by a disturbance in the electrical nerve impulses of the heart and may lead to heart disease, stroke or sudden cardiac death.
Episode 7
Ecchymosis: A small haemorrhagic spot, larger than a petechia, in the skin or mucous membrane forming a nonelevated, rounded or irregular, blue or purplish patch.
Bulbar conjunctiva: The part of the conjunctiva, a clear membrane of the eye, which covers the outer surface of the eye.
Work sharing: A reduction of working time intended to spread a reduced volume of work over the same or a similar number of workers in order to avoid layoffs or, alternatively, as a measure intended to create new employment.
Vital reaction: This reference means that the wound was inflicted on a live body and not on a dead one.