Ruler of Your Own World
English subtitles available below.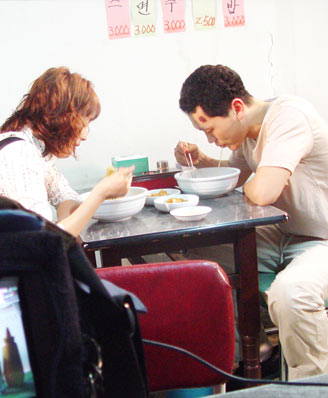 Korean audio, English subtitles in attachment below.
Video:
DivX
Audio:
AC3
Size:
700 MB
Video quality:
DVDrip
Encoder/Ripper:
PosTX
Subtitles:
totuta
Uploading schedule:
Every 2-3 days.
Starring:

Yang Dong Geun
as Go Bok-soo
Lee Na Young
as Jun Kyung
Lee Dong Gun
as Han Dong-jin
Gong Hyo Jin
as Song Mi-rae
Synopsis:
(credit: KrystalHeart,
http://www.krystalheart.com/royow/
)
A story about a man named Boksu Ko who is a pick pocketer. Boksu's father leaves him in an orphanage when he is young. Boksu grows up in hard times and eventually gets sent to prison for stealing. Upon his release, his father greets him and the story begins...
In a twist of fate, Kyung's wallet was stolen by Boksu. Kyung was on her way to the hospital to deliver the check to pay for her friend's surgery. Unfortuntely because Kyung lost the money, her friend doesn't get the surgery and her friend dies. Boksu feels guilty for what he has done because he starts to develop feelings for Kyung. Boksu learns that he has a brain tumor and is determined to change his life because he may not have long to live. Boksu's long time girlfriend, Mirae, stands by her man even though she painfully watches him love Kyung. At first Kyung wants nothing to do with Boksu, but the more she learns about him, the more she is drawn to him. A three way love triangle develops throughout the story and the audience learns the different lives of Boksu and Kyung.
-----
Episodes 1-20 (revised TV version)
Episodes 1-20 (DVD version)