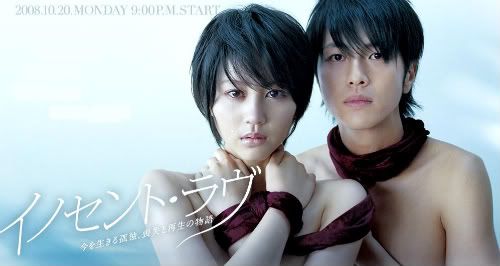 * Title: イノセント・ラヴ
* Title (romaji): Innocent Love
* Format: Renzoku
* Genre: Romance
* Broadcast network: Fuji TV
* Broadcast period: 2008-Oct-20 to 2008-Dec
* Air time: Monday 21:00
* Theme song: Eternally by Utada Hikaru
Synopsis
An arson took it all away from Akiyama Kanon seven years ago. Her parents died in that fire, her brother was arrested as the prime suspect and her carefree life disappeared from that instant. She was shunned by the town as the sister of a murderer, yet she believes in her brother's innocence and often pays him visits with words of encouragement. As life gets harder when nobody is willing to give her a job, Kanon decides to try her luck in the city and there she meets the man of her destiny…
Cast
* Horikita Maki as Akiyama Kanon
* Kitagawa Yujin as Nagasaki Junya
* Kashii Yu as Sakurai Mizuki
* Fukushi Seiji as Akiyama Yoji
* Narimiya Hiroki as Segawa Subaru
* Uchida Yuki as Toono Kiyoka
* Toyohara Kosuke as Ikeda Jiro
* Naitou Takashi as Yoshimichi (priest)
I tried to revive and create a new fansub group that failed.
TriD-fansubs
is something i just created recently and currently i am the only member.
I started subtitling this awhile back, although it took a lot of time finishing up everythign alone.
I have skimmed through the subtitles but have not had a third party view the subtitles until this moment. If someone is willing to look through the work then i would be thankful

And of course never upload these fansubs to MySoju.com , Crunchyroll, and other streamloading sites.
email:
TriDfansubs@gmail.com
for the comments.
I would really enjoy working with another group like QUERBEET to reduce the work time level. If someone could reference me to a way of communication with them then i thank you.
Although one issue was translating the song which is sung by children, in which i felt was difficult to transition into english.
I will only do softsubs, not hardsubs unless i can form a team in a relatively short amount of time.
Thanks everyone~
Softsubs