Dear Readers,
TimeLesSub proudly presents to you, Koori no Hana (SP). This is a collaboration between Haruspex and TLS. On behalf of TLS, I would like to thank Haruspex for the excellent translations that he had done.
We hope that viewers will enjoy the subs. Stay tuned for our next release.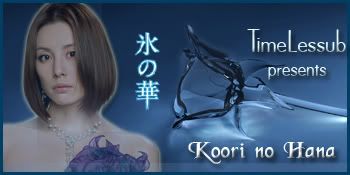 Drama Home Page
========================================
Synopsis [Credit to tokyograph]
This year, TV Asahi will broadcast a drama special titled "Koori no Hana." The story is based on a mystery novel of the same name that was self-published last year as the debut of 62-year-old author Setsuko Amano.
Actress Ryoko Yonekura will star, returning to the "wicked woman" image she acquired through her roles in dramas such as "Kurokawa no Techo" and "Warui Yatsura." In "Koori no Hana," she plays a pianist who receives an inheritance from her uncle, and she begins living happily with her husband, a surgeon (Masato Sakai). But one day, she receives a phone call from a woman claiming to be her husband's pregnant mistress, and she is soon driven to murder.
========================================
Credits
Project lead: darynrose
Raw Provider: toyotaku
Translator: Haruspex
Timer: triplez
Editors: areea-chan, Lukia & yenchan69
QC: sabacat
Hardsubs will be available soon.
*Our fansubbed work is for free. Free Fansubs for Fans. Not for SALE or RENT.
*Please do not hardsub these softsubs and upload them to any STREAMING SITES including but not limited to Youtube, Youtube, Megavideo,Google,veoh, crunchyroll regardless of credits being given or not.
Nagging = Annoying = Delay of Subs Release
*Image credits: ccdj