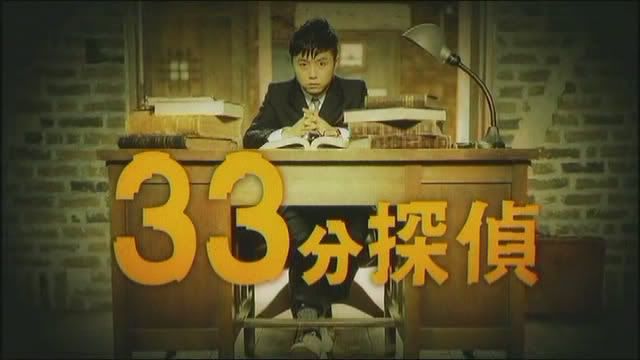 Title: 33分探偵

Title (romaji): 33pun Tantei

Title (English): 33 Minute Detective

Format: Renzoku

Genre: Comedy, mystery

Episodes: TBA

Broadcast network: Fuji TV

Broadcast period: 2008-Aug-02

Air time: Saturday 23:10

Theme song: Secret Code by KinKi Kids
Story
Each episode's mystery is solved within that short time span, but unlike typical detective shows, this comedy features a slow-witted sleuth named Rokuro Kurama. While viewers will be able to identify the criminal right away, Kurama constantly comes up with incorrect theories, leading him to always accuse the wrong person. The show's name comes from its time slot (Saturday nights at 11:10pm), which runs a total of 33 minutes after commercial time is subtracted.
Cast
Domoto Tsuyoshi as Kurama Rokuro
Mizukawa Asami as Muto Rikako
Takahashi Katsumi as Police Inspector Otawara
* Totsugi Shigeyuki as Detective Motegi
Sato Jiro as the judgment official
Nonami Maho as Ai (assistant to the judgment official)
Kojima Yoshio (小島よしお) as the informer
Hardsub Group
CHLOE Fansubs
Episode 1 Notes:
I timed and translated and all that stuff myself, but I didn't QC it so I don't know how it actually came out. Since I'm preparing for Otakon, I won't be able to go back and fix any mistakes until I get back. There will be a Version 2 release of this sub. Enjoy guys!
V. 2 Notes - Thanks to the lovely ohmiya_sg (Saragorn), she volunteered to help QC and edit my 33pun Tantei subs. So we have episode 1 fixed up for you! Enjoy guys~
DO NOT UPLOAD TO STREAM SITES. DO NOT ALTER THEM IN ANYWAY.
Again, this is not an SBK Fansubs project. I will not be hardsubbing this.
Yasuko to Kenji will always be my priority drama since that is my group's project and main focus (as well as mine) -- So there maybe chances that this drama's subs will not be as released fast because I will be working on Yasuko to Kenji. This drama also airs the same day as Yasuko to Kenji, just an hour and ten minutes later... so that adds extra work on me, lol. I am surprised I managed to knock out two dramas in less than three days.
Update 9-14-08
Sorry for the delay in these subs. Obvious big delay, but I've been working my ass off with SBK trying to catch us up with Yasuko to Kenji (we're two episodes behind) so, that was why I did not work on 33pun. On the good side, I have started again, since eps 2 and 3 will take longer since I am translating by ear, I will work on eps 4 - 6 since there's a scripti available and push them out the way at least.
Also, another reason it wasn't major priority because I found out there's TWO fansub groups working on this, as for their status, I don't know, and one of them has released soft subs with their hardsubs. So if you're really hard up, check them out.