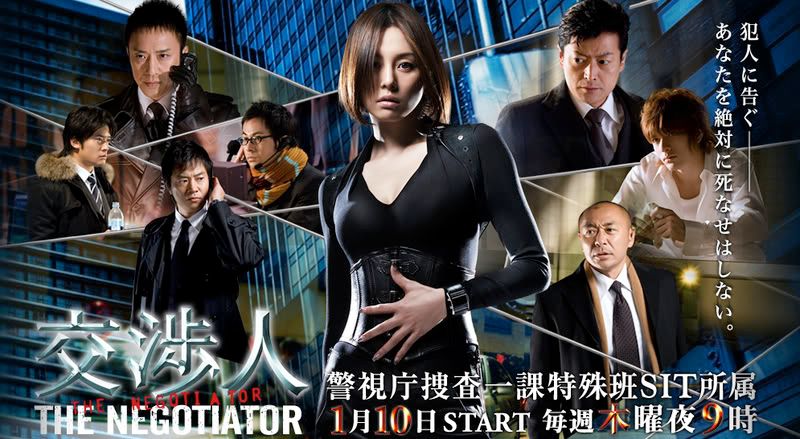 Title:
交渉人
Title (romaji):
Koshonin
Title (English): The Negotiator
Format: Renzoku
Genre: Detective mystery
Broadcast network: TV Asahi
Broadcast period: 2008-Jan-10 to 2008-Mar
Air time: Thursday 21:00
Theme song: Ougon Soul by Shonannokaze
Synopsis
In a modern society in which violent crimes are on the rise, there is a team that tries to resolve cases without bloodshed. It is the metropolitan police's special team, known by the abbreviation SIT (Special Investigation Team). The SIT doesn't get into action after a case but heads to the site just as a crime is being committed. They are on the front-line of risky missions, facing off against criminals; tenaciously conducting negotiations with criminals. As a result of the rigid police hierarchy that can curb the conduct of negotiators, the SIT is also a male-dominated society controlled with strict discipline. There is one female negotiator, Usagi Reiko, who bravely fights at the frontline. She is isolated in the male world of the SIT but courageously fights against crime as well as her organisation. -- jade_frost
Cast
Yonekura Ryoko as Usagi Reiko
Jinnai Takanori as Kirisawa Keigo
Takahashi Katsumi as Katayama Kazuyoshi
Sasano Takashi as Sumida Kohei
Suzuki Kosuke as Hasebe Kunio
Kakei Toshio as Kizaki Seiichiro
Yasu Megumi as Mimura Rumiko
Takaoka Sousuke as Amari Yusuke
Shirota Yu as Mariya Kyosuke
Osugi Ren as Takabayashi Sizuo
Ibu Masato as Mikio Kudo
Nakayama Megumi as Sugawara Yumi
Komoto Maki as Yamamoto Midori
Takachi Noboru as Hasumi Yoshiki
Hayashi Tantan (林丹丹) as Usagi Mio
Dramawiki:
http://wiki.d-addicts.com/Koshonin
Official Site:
http://www.tv-asahi.co.jp/koshonin/index_top.html
Hi everyone! Please note that from now on, more editing will be done to the subs and thus I will need more time to upload them. I will still try my best to release it on a weekly basis. Thanks for your patience!
Latest news: Episode 8 is finally here!!
THIS EPISODE IS DEDICATED TO DINAH HEW!
D-Royal fansubs will be using my soft subs as a basis to make hard subs for Koshonin. This is to facilitate fans who are unable or not used to watching soft subs. Let's hope more people get to watch this wonderful drama!
By the way, credits going to
XRayMind
for providing the raws,
Tianj
for providing the timings and
Wwaldo37
for some editing works. Do give us your support by commenting in this thread! Thank you!