Lobbyist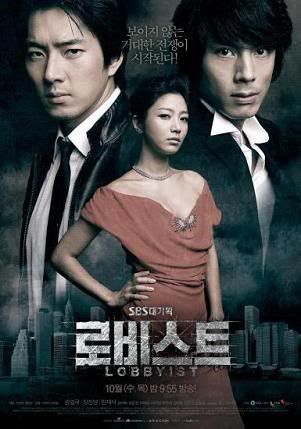 Datos Generales
* Título: 로비스트 (说客) / Lobbyist
* Género: Acción, Romance
* Episodios: 24
* Broadcast network: SBS
* Tiempo de transmisión: 2007-Oct-10 to 2007-Dec
* Días de transmisión: Miércoles y Jueves 21:55 (9:55 Hora Coreana)
Sinopsis
Este drama es acerca de una mujer Lobbyist (Persona que influye en el poder legislativo de un país) que trata con vendedores de armas internacionales.
Kang Tae Hyuk es el sucesor del principal productor de municiones en Corea. Él es un joven hombre de negocios con una apariencia perfecta y un lenguaje refinado. Él tiene una habilidad innata como lobbyist y es un estupendo estratega. Él planea penetrar su influencia a toda Asia.
*Traducido de Wikipedia
Thanks to WITS2 for the great subs in english, I will translate them to spansih, If there's a problem let me know!!!