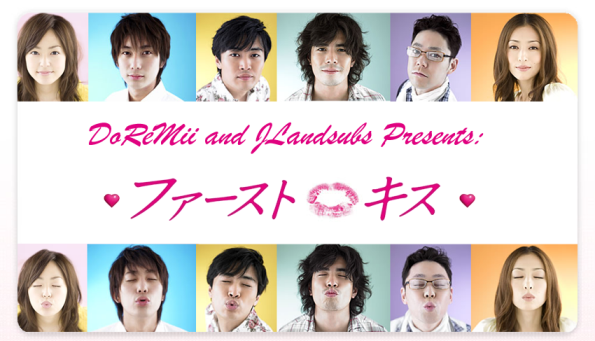 SINCE DOREMII HAS SO MANY ACTIVE PROJECTS WE HAVE DECIDED TO STOP SUBBING FIRST KISS! IF ANY OTHER GROUP PLANS TO CONTINUE SOFT SUBS PM ME SO THAT I CAN RELINQUISH THIS THREAD!


First Kiss!


Genre

Romance
Episodes

Hopefully Many!
Cast

Inoue Mao as Fukunaga Mio
Ito Hideaki as Kano Kazuki
Hiraoka Yuuta as Yuuki Akio
Matsuyuki Yasuko as Takagi Renko
Gekidan Hitori as Shindo Ichiryu
Abe Sadao as Nikaido Masaru
Takenaka Naoto as Banba Dai
Natsuki Mari as Fukunaga Rieko
Sakai Wakana as Saito Haruna
Warabino Tomoya as Shohata Takeo
[/b]
Story

In this romantic comedy, Inoue Mao stars as a selfish girl named Fukunaga Mio. Because of a serious illness, she lives in the U.S. for medical treatment. Before undergoing an important operation, she returns to Japan, where she meets the older brother she has been separated from since her parents' divorce. She finds Kazuki (Ito Hideaki) leading a good-for-nothing life, but he shows his seriousness when he resolves to find a way for Mio to experience her first kiss. Hiraoka Yuuta plays the love interest, a rookie doctor.
-- Tokyograph
Format: Softsubs & Hardsubs
RAW version: gryzze(+ re-time version to be announced before hardsubbing)
Hosting Permissions
DO NOT, we repeat, DO NOT upload ANY of our softsubs or hardsubs to streaming sites AT ALL. We have our own streaming media sites
DoReMii on Veoh
DO NOT ask to host our raw files/softsubs files. HOWEVER if you'd like to host direct downloads of our HARDSUBBED series please contact us through a PM or through
doremiifansubs@gmail.com

*Banner by Puppet Princess*
Viewing issues ?!?
Download and use this:
K-lite codec pack
Credits

Episode 1 by DoReMii and Jlandsub
- (gryzze)
Translators: yousei
Spot Translation: Lily @jlandsubs.com
Timers: yousei
Karaoke FX: Crafty_Shadow
Editor: tipsytoto
Final QC: tipsytoto
Re-timing & Encoding: tipsytoto