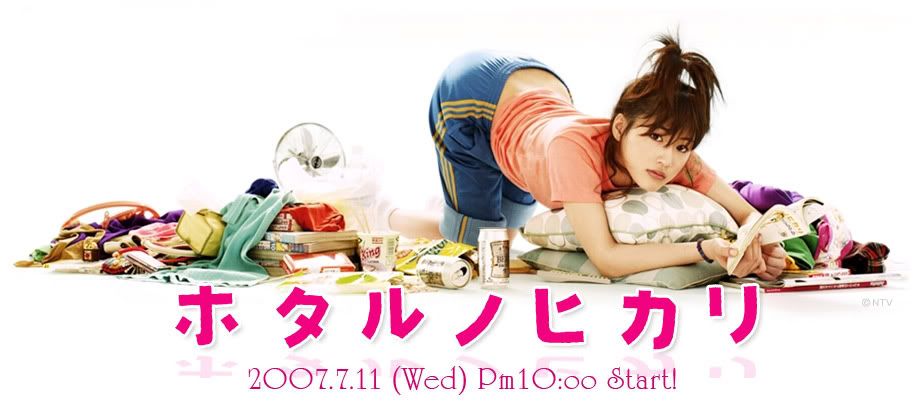 Hotaru no Hikari
Also known as
Glow of the Firefly / ホタルノヒカリ
Genre
Romance
Episodes
???
Cast
Ayase Haruka as Amemiya Hotaru
Fujiki Naohito as Takano Seiichi
Kuninaka Ryoko as Saegusa Yuuka
Kato Kazuki as Teshima Makoto
Takeda Shinji as Jinguuji Kaname
Itaya Yuka as Yamada Sachiko
Yasuda Ken as Futatsugi Shouji
Asami Reina as Sono Minako
Watabe Gota as Sawaki Shun
Shibue Joji as Tadokoro Junpei
Matsumoto Marika as Murota Suzuko
Matsushita Sara as Kasumi Hatsuko
Maruyama Tomomi as Goutokuji Ken
Matsunaga Hiroshi as Yamaguchi Takatoshi
Story
Ayase Haruka stars as the title character, Amemiya Hotaru, in this adaptation of Hiura Satoru's "Hotaru no Hikari" manga series. Hotaru is a twenty-something office lady who has become a "dried fish" - she has "retired" from love, and she prefers to spend her time lazily at home. Then one day, her world gets shaken up when she unexpectedly ends up living with her boss (Naohito Fujiki). To complicate her life even further, she begins to find romance with a new employee named Makoto (Kato Kazuki).
Hosting Permissions
DO NOT, we repeat, DO NOT upload ANY of our softsubs or hardsubs to streaming sites AT ALL. We have our own streaming media site on
Veoh
. DO NOT ask to host our softsubs files. HOWEVER if you'd like to host direct downloads of our HARDSUBBED series please contact us through a PM or through
doremiifansubs@gmail.com

*Banner by Puppet Princess*
Credits
Episode 01
Hardsubs
Translator: OolittlepandagirloO
Timers: malaymeetschinese
Editor: Sylverwind
QC: Puppet Princess
Encoding: Puppet Princess
Episode 02
Hardsubs
Translator: OolittlepandagirloO
Timers: malaymeetschinese
Editor: weimel
QC: Resie
Encoding: serpentslion
Episode 03
Hardsubs
Translator: OolittlepandagirloO
Timers: malaymeetschinese
Editor: serpentslion
QC: Vela
Encoding: ktringo
Episode 04
Translator: OolittlepandagirloO
Timers: malaymeetschinese
Editor: Puppet Princess
QC: Vela
Encoding: ktringo
Episode 05
Translator: OolittlepandagirloO
Timers: malaymeetschinese
Editor: Sylverwind
QC: Puppet Princess
Encoding: ktringo
Episode 06
Translator: OolittlepandagirloO
Timers: ktringo
Editor: weimel
QC: Resie
Encoding: serpentslion
Episode 07
Translator: OolittlepandagirloO
Timers: minnilu
Editor: weimel
QC: smileex
Encoding: ktringo
Episode 08
Translator: OolittlepandagirloO
Timers: malaymeetschinese
Editor: SacredCultivator
QC: Resie
Encoding: SacredClutivator
Episode 09
Translator: OolittlepandagirloO
Timers: malaymeetschinese
Editor: Tipsytoto
QC: Vela
Encoding: SacredClutivator
Episode 10 - FINALE
1024x576 Re-sync
- Thanks Kae <3
Translator: OolittlepandagirloO
Timers: malaymeetschinese
Editor: Tipsytoto
QC: Resie
Encoding: SacredClutivator