Annoucement:
We are sorry to say, but we are dropping this series. Why? Most of our staff members lost interest in subbing it including all of the translators, so we decided it's best to drop it. If someone is willing to take over this series, you can pm me as I will notify a mod or an administrator to give the thread to whoever is going to continue it. Sorry for the inconveinces!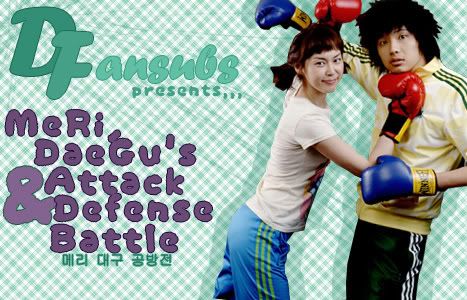 Picture credits to: MBC Me Ri, Dae Gu's Attack and Defense Battle official site. Poster by miSHKA.
Drama Info:
Title:' 메리 대구 공방전 / Me Ri, Dae Gu's Attack and Defense Battle
Previously known as: Married Couple's Attack and Defense Battle
Genre: Romance, Comedy
Episodes: 16
Broadcast network: MBC
Broadcast period: 2007-May-16 to 2007
Air time: Wednesdays & Thursdays 21:55
Casts:
Lee Ha Na as
Hwang Me Ri
Ji Hyun Woo as
Kang Dae Gu
Lee Min Woo as
Seong Do Jin
Wang Bit Na as
Lee So Ran
------------------------------------------------------------------------
Synopsis:
Ji Hyun Woo basically comes out as 'Kang Dae Gu' a chivalry novelist who writes stories about martial arts, but he's in fact jobless. And before he became like this, he was a law student. But while he was preparing for his bar exam, he witnessed his lawyer friend commit suicide. After that incident, he threw away his hopes and dreams and became a writer.
Lee Ha Na plays 'Hwang Me Ri' who is a snack vendor who dreams of becoming an actress. Although she is unable to be successful in her auditions, Me Ri still remain an optimistic person like her nickname "Merry" as she was born on Christmas day. She's the type of person always repays the 'kindness' that others give to her. One day, her world began to start crumbling down when she encounters 'Kang Dae Gu' the chivalry novelist who is younger than her by a year. Since then, both of them are always bickering whenever they meet which leave their same neighborhood neighbors in constant headaches.
Wang Bit Na plays 'Lee So Ran'. She is known as the plastic beauty, or in other words "Plastic Paris Hilton". She's snobby and totally fixed her face with plastic surgery, though it turned out very natural. She lives her life similar to Paris Hilton. She has a unique taste in men. One day, she meets a nameless novelist named Kang Dae Gu (Ji Hyun Woo) and falls in love with him. Thus, she begins to make plans to make Dae Gu all hers.
Lee Min Woo plays 'Seon Do Jin' who works as a middle school teacher. He's also Me Ri's first love/ classmate in elementary school and Dae Gu's school senior. He begins to 'stick' around Me Ri's side to help her out as he pities the situation that she's in.
Synopsis Credits:
Sandy @ Purpletiger86
------------------------------------------------------------------------
Links:
Me Ri, Dae Gu's Attack and Defense Battle MBC Official Site
Soompi
Me Ri, Dae Gu's Attack and Defense Battle Wiki
------------------------------------------------------------------------
Clubboxes to Download:
WITH S2
Creidesca2
moviesamo
You can also download from D-Addict's Tracker.
For more information, please read the FAQs thread.
------------------------------------------------------------------------
Subbing Progress Updates
Please do not ask when the next sub is going to be release.

Please do not upload any of our work without D-Fansubs prior consent.

Subs are sync to HQ 700MB videos only
D-Fansubs Subbing Status:
D-Fansubs Wiki
*Episode 1: Released
*Episodes 2-3: Timing
*Episodes 4-6: Translating
*Episode 7: Pending
------------------------------------------------------------------------
English Subtitles
Brought to you by D-Fansubs
D r a m a F a n s u b s
Episode 1
Translator: galbilover
Timer: julier
Spot Translator: miSHKA
Editor/QC: Athaclena42
Coordinators: Kandi & Athaclena42