REVOLVING DOORS OF VENGEANCE (HK DRAMA) 30 Episodes
Subtitle by S.O.S Fansubs Team
Cast
Joe Ma
Kenix Kwok
Ron Ng
Ella Koon
John Chiang
Winnie Yeung
Charles Szeto
Elaine Yiu
Renne Tai
Ellesmere Choi
Raymond Cho
Mary Hon
Deren Kwok
Lo Yin Kuan
Chan San Chong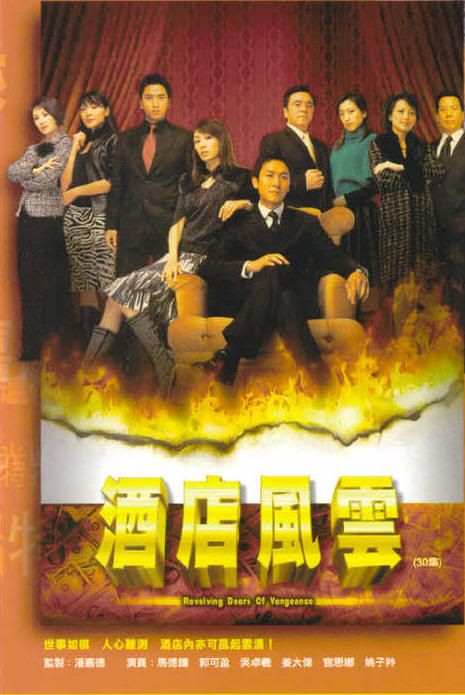 Synopsis
The story befalls the family of Wong Yuk Ting (Lau Dan) who runs a five-star hotel chain and tells of how repaying a favour turns into seeking vengeance in a twisting story of honour and revenge. Wong Kai Kit (Ron Ng) is the youngest son in the Wong family, but his two elder brothers are not suitable heirs to the family wealth in the eyes of his father. Then Yuk Ting suddenly dies mysteriously and the business is strangely handed to a man named Ko Fung (Joe Ma) to head. He develops a romance with Bik Kei (Kenix Kwok), whom he meets in the hotel and becomes embroiled in a tangled power struggle with the family, including Kit's uncle Wing Fat (John Chiang), where deceit and plots unfold around every twist and turn...
Summary
Wong Kai Kit (Ron Ng) is a rebellious son of a hotel CEO. Because he played some tricks on his stepbrothers illegally, he went to jail. On the day that he was released from prison, the hotel was celebrating its anniversary. But it had an accident and business went downhill. Fortunately, a mysterious man, Ko Fung (Joe Ma) appeared and saved the business. However, Ko Fung saved the business for another purpose and because of this, him and Kai Kit were always at odds. Through their many arguments and conflicts, Kai Kit slowly matured...
This series also includes Kenix Kwok and Ella Koo. Ella plays a bubbly girl who sells fish and has a love relationship with Ron Ng. This series will also be filming in China and Philippines, so there'll be lots of beautiful sceneries.
Credits to HK-MTV
SUB CREDITS:
Thank you S.O.S. Fansubs for subbing!
Thank You So Much For All Your Help And Hardwork S.O.S Fansubs Team!!!!

Please support D-Addicts with your generous donations, THANK YOU!!!!
Episode 1 Eng Subs
[
SRT
|
SSA
] page 1
Translator & Timer: PsychoWabbit
Editor & QC: ceres & ce.ar
Episode 2 Eng Subs
[
SRT
|
SSA
] page 2
Translator & QC: PsychoWabbit
Timer: Aplepy
Editor: Jeremiah & allredndizzy
Episode 3 Eng Subs
[
SRT
|
SSA
] page 2
Translator: ceres
Timer: Aplepy
Editor & QC: PsychoWabbit
Episode 4 Eng Subs
[
SRT
|
SSA
] page 3
Translator: silver sparrow
Timer: aplepy
Editor: ceres
QC: ce.ar
Episode 5 Eng Subs
[
SRT
|
SSA
] page 3
Translator: PsychoWabbit
Timer: zerozero
Editor: ceres
QC: lainegal
Episode 6 Eng Subs
[
SRT
|
SSA
] page 3
Translator: ceres
Timer: Aplepy
Editor: Kai Lien
QC: lainegal
Episode 7 Eng Subs
[
SRT
|
SSA
] page 4
Translator: icyglaze
Timer: ccdj
Editor: ccdj
Spot Translator: intramontabile
QC: JaeHee
Episode 8 Eng Subs
[
SRT
|
SSA
] page 4
Translator: silver sparrow, nokcha
Timer: zerozero
Editor: Kai Lien
Spot Translator: carinelay
QC: JaeHee, carinelay
Episode 9 Eng Subs
[
SRT
|
SSA
] page 4
Translator: ceres
Timer: aplepy
Editor: Kai Lien
Spot Translator: carinelay
QC: ccdj
Episode 10 Eng Subs
[
SRT
|
SSA
] page 4
Translator: sfun
Timer: Aplepy
Editor: blush
Spot Translator: intramontabile
QC: intramontabile
Episode 11 Eng Subs
[
SRT
| SSA page 4
Translators: ceres, carinelay
Timer: ccdj
Editor: ccdj
Spot Translator: BAAMx2
QC: carinelay
Episode 12 Eng Subs
[
SRT
| SSA page 4
Translator: icyglaze
Timer: ccdj
Spot Translator: BAAMx2
QC: ce.ar
Episode 13-30 Eng Subs
see page 4 & 5