UPDATED SUBS ADDED FOR DOWNLOAD IN ATTACHMENT BELOW!!!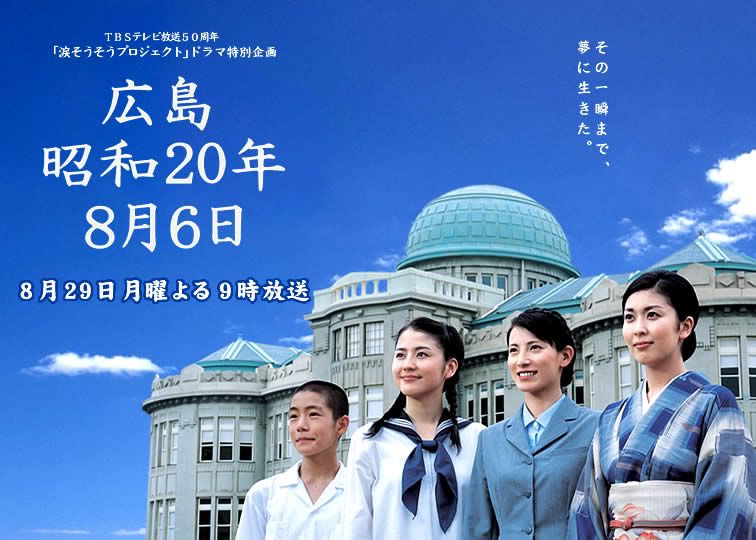 Nada Sou Sou Special Project ~ Hiroshima Showa 20 nen 8 Gatsu Muika
(2005)
Duration: 1 Special Episode
Comments (IMPORTANT NOTICE FOR THOSE WHO ALREADY HAVE THE RAW!!!):
As requested, I did a translation of the chinese subbed version of the show to create a set of english subs. The video is exactly the same as the RAW version uploaded on this site. For those who already have the RAW version, do the following steps to save time when downloading.

1) Rename your RAW file to:

Nada Sou Sou Project ~ Hiroshima Showa 20 nen 8 gatsu muika

2) Create a folder in your download destination directory called:

Nada Sou Sou Project ~ Hiroshima Showa 20 nen 8 gatsu muika

3) Put the RAW file into that directory and download the seed to begin your download.

These steps should help save alot of time. Finally, a special thanks to Chiisana_tantei for providing the RAW version.


* Also included are two versions of the song 'Nada Sou Sou'

Cast: Matsu Takako, Katou Ai, Nagasawa Masami, Tomiura Satoshi, Kokubun Taichi, Tamayama Tetsuji, Fukada Aki,
Izumiya Shigeru
Genre: War/Historical Drama
Language: Japanese
Subs: English .srt (preferrable to play using Vobsub rather than VLC due to sizing issues)
Plot:
From the official website, the story is narrated by Toshiyuki Nishida's character at the Hiroshima Peace Memorial Park, a story during the summer of 1945 (60 years earlier). At one time a row of shophouses and private homes lined the vicinity. That was where the Yajima family resided - four merry, close siblings who were orphans. Matsu Takako (Yajima Shinobu) plays the oldest daugther who runs the Yajima Hotel after the death of her parents while looking out for her younger siblings - Kato Ai (Yajima Nobuko), Nagasawa Masami (Yajima Maki), Tomiura Satoshi (Yajima Toshiaki). Harsh, painful ordeals visit each of the Yajima siblings during the war. Their only brother is called to go to war. Days later the sisters see Toshiaki off at Hiroshima station...
More info:
http://jdorama.com/drama.962.htm
http://www.j-dorama.de/serie-39.html
(German)
Official Webpage (Japanese):
http://www.tbs.co.jp/nadasoso/
Screencaps: