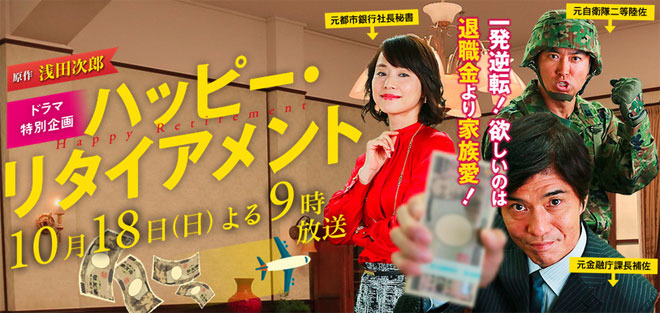 Name: Happy Retirement (ハッピー・リタイアメント)
Viewer Rating: 6.8%
Channel: TV Asahi
Summary: Following certain incidents, former Financial Services Agency worker Higuchi Shintaro and former Self Defense Forces officer Ootomo Tsutomu end up working together at JAMS. The two meet Tachibana Aoi who also ended up there after an incident. She tells them that despite JAMS' hefty 10 million yen salary, they don't have anything to do. One day, he notices the real name of his favorite author among the names on JAMS' files. He invents a reason to meet with him and comes back with the sum for repayment in full. The three begin to plot...
Cast:
Sato Koichi as Higuchi Shintaro
Ishiguro Ken as Otomo Tsutomu
Ishida Yuriko as Tachibana Aoi
Daito Shunsuke as Higuchi Taiki
Mano Erina as Higuchi Manami
Jinbo Satoshi as Nagata
Yashima Norito as Yajima Sumihiko
Takenaka Naoto as Kaneo Tametaro
Umezawa Tomio as Nick Ono
Kikuchi Momoko as Yasui Kiyoko
Asano Atsuko as Higuchi Yoshiko
English Subtitles are from KIKU TV.
Special thanks to Avallac'h for the hardsubbed file.
Subs are timed to VampireXxX's 480p raw available
here @nyaa