Kasa wo Motanai Aritachi wa(Ants without Umbrella)
Broadcast Period:
09-30 Jan 2016 |
Air time:
Saturday (23:40 JST) |
Channel:
FujiTV
Based on a short-story compilation, written by Kato Shigeaki (NEWS)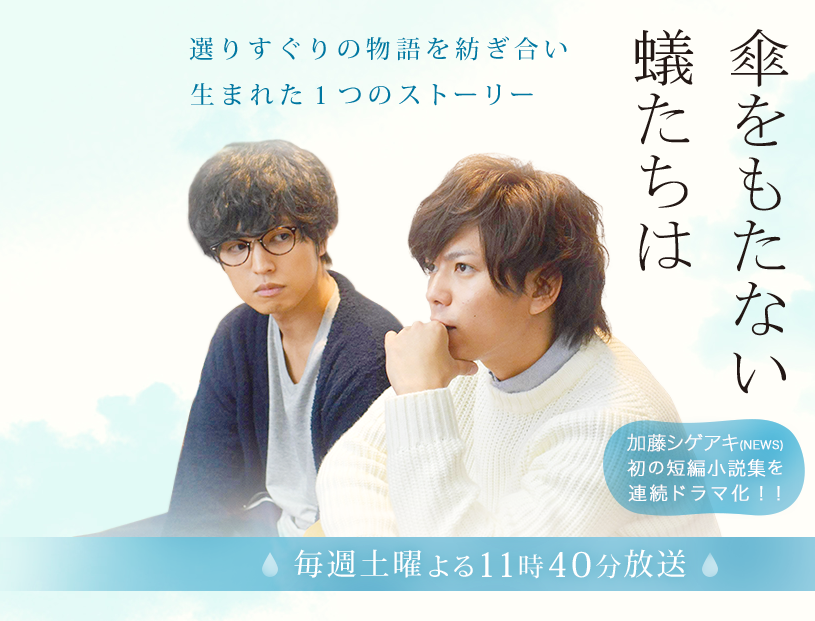 Cast:
Kiriyama Renn,
Kato Shigeaki (NEWS)
, Sakata Masanobu, Adachi Rika, Watanabe Mai, Minamisawa Nao, Ryu Raita,
Kobayashi Ryota
, Ichikawa Riku, Takeda Rena, etc.
Synopsis:
http://wiki.d-addicts.com/Kasa_wo_Motanai_Aritachi_wa
http://asianwiki.com/Kasa_wo_Motanai_Aritachi_wa
Hardsubbed ver. posted in:
http://newsnowexpress.livejournal.com/
http://jiyuufansub.livejournal.com/6520.html
Notes:
[JP-Sub] Thanks to
Jpsubber
. | [INA-Sub] Thanks to
Jiyuu Fansub
. | [ENG-Sub]
NEX
.