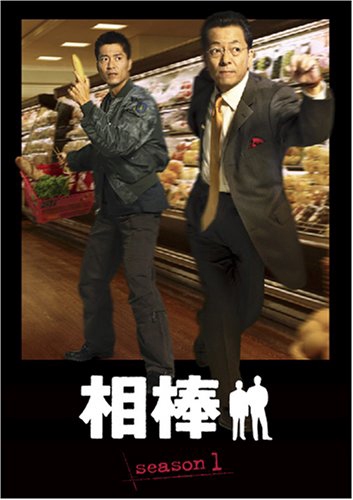 Title:
Aibou Season01
Episodes:
12
Duration:
~45 min.
Synopsis:
Tokumei Gakari (Special Mission Task Team) – is not considered as important as it might sound. It is positioned in the lowest section of the Metropolitan Police Department and so-called as the "oversized garbage dealer". Ukyo Sugishita is a head of this Tokumei Gakari. As people rumor that anyone who worked under Ukyo eventually leaves the office, he is called "the grave keeper of human resource". However, there was another reason why people call him in this name. When Ukyo fist transferred to this section with his secret mission, all of his direct reports died mysteriously. Somehow, the police have sealed this incident from further investigation. Ukyo's present partner is frank, ardent man Kaoru Kameyama. Though they of the type that is completely the opposite don't get along, Ukyo and Kaoru will solve the truth of the cases.

http://mydramalist.com/3517-aibou-season-1
from
http://asianwiki.com/Aibou:_Season_1
Comment:
Hi I am making subs to some shows that are not subbed and don't look like someone will sub them in the future. The episodes are only ~85-95%-subbed and the translation/english might be lacking a bit. I try to translate as much as possible and as accurate as possible but I never really studied japanese so there are some words and phrases I don't get - especially with the non-everyday police talk and Yonezawa murmuring all the time.
Subtitles:
I didn't make simple srt-subs but tried to place the subs of some people higher than others because that way one can follow the dialogue better (maybe). for example while interacting with police personal all civilians will have their subs placed above the others. for ep8 to ep10 I can fall back on japanese transcriptions for the translation which means much less mistakes/missing translation. It's looking very good -if I may say so- and I am learning much (thanks GGib for the link!). You guys still have to bear with my english though...
I downloaded the raws of the show from the site here
http://doramax264.com/24288/aibou-seaso ... ub-12-raw/
(the 1fichier dl should work, junocloud seems to work too)... to watch just put the raw and the sub into the same directory and give them the same name (or load subs manually with your player).
I plan to upload 1 ep every friday.
because somebody wrote me on that matter: in my wall of text on outcast salaryman (at ~00:55:19) I wrote for some reason that our team from Tokumei Gakari works in a room without windows. In fact they even have two of them...
forgot to mark it in the subs: when the chief comes in with the guy from Division2 (at 08:22) Kameyama is saying "datte kezai-jiken ja nai desho" (= after all this is no finance related case). I translated it with "The case doesn't even involve that much money" to make it clear that he's wondering why robbery gets higher involvement all of a sudden in a murder-case if only some 1000$ or sth like that were stolen.
This time it's an alcohol-episode. Unfortunately I don't drink so the comments on the alcohol stay limited to wikipedia-quotes...
------------------------------------------------------------
starting with Ep08 with aid of japanese transcripts
------------------------------------------------------------
I tried to get some more of the signs translated but didn't get it done. Will maybe add it later.
PS: they really tried hard with the english messages on the PC for example the one "Harbard" instead of "Harvard".
this video is related to 33:11 of this episode:
https://www.youtube.com/watch?v=fkmLs2NQ7Bk
Aibou S01 Ep11.ass
sorry for the delay. I'm still alive. I'm working on the last 2 episodes.
INFO:


I also have japanese transcriptions of most of the season2 (ep01-20).
If everything goes so smooth like now with ep8 I probably will do the 2nd season too at the start of next year