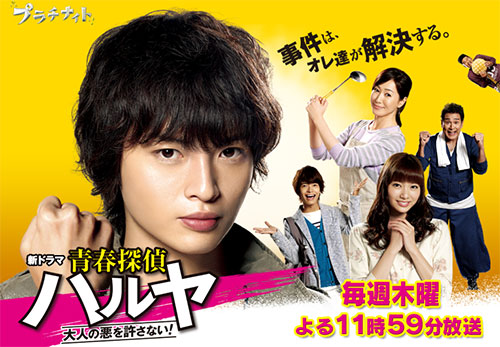 Starring:
Tamamori Yuta, Shinkawa Yua, Takada Sho, Yanagi Yurina, Ami 201, Ikeda Saemi, Komaki Mako, Ikura Manami, Shinokawa Momone, Ukaji Takashi, Takashima Reiko
Synopsis:
Impoverished second-year university student Asagi Haruya earns a living doing part-time demolition work. One day, he is introduced to a risky pseudo-detective part-time job by his friend Kubodera Kazuomi. It is to protect Noumi Miu, the Miss Campus of the same university, from a male stalker who keeps following her. Blinded by the large reward, Haruya gets Shinohara Toshiki, his roommate and good friend since high school, involved and starts to investigate. However, this becomes a difficult case beyond their expectation. Haruya approaches the mystery of the case with a keen mind and gutsiness. Meanwhile, Ishida Shizue, the proprietress of the coffee shop where Haruya is a regular, also consults him about being a victim of stalking. Through this strange turn of events, Haruya starts solving difficult cases rampant nowadays with the assistance of his schoolmate, Kubodera Kazutomi.
SourceNote:
This is the first drama fansub I've ever done and may have quite a few errors. Please do let me know of any corrections I should make.
Crossposted to my livejournal,
ihsarafes
.
For progress updates, check
@mfsubs.
Archived Edit Notes
16.15.02:
I've finally finished subbing this drama! As for notes, at 16:10 I didn't quite understand what 'Harudanji' is, and as usual I didn't look up the baseball references in too much detail (in a little detail) but it should be alright. Enjoy!