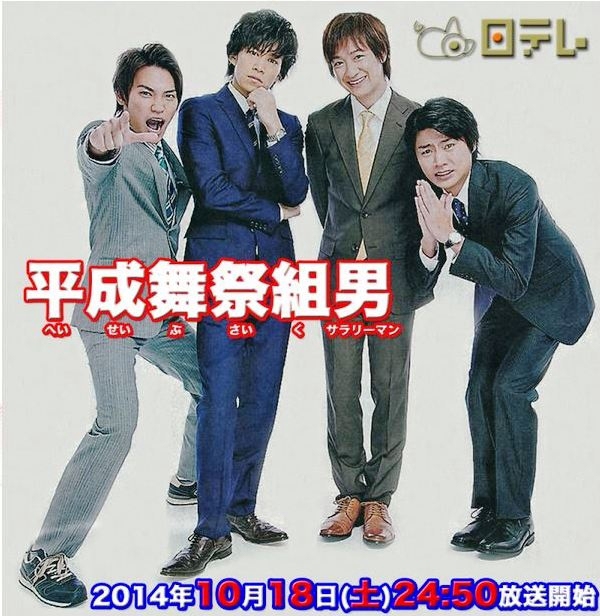 Title:
Heisei Busaiku Salaryman
Episodes:
12
Duration:
~23 min.
Synopsis
At the West Tokyo branch office of Pakupaku Confectionery, capable salarymen clinch successive business deals. However, nothing seems to go right for four of the people among the busy staff. Even though they always give it their best, they would fail and get scolded and have to start all over again. There is Yoko Wataru who is the one the other three would like to depend on because he is the most senior, but he is incompetent, has bad timing in everything and falters when he speaks; Miyata Toshiya often gets scolded due to his naivete and inability to read situations; Nikaido Takashi is the athletic sort, very diligent, tends to get extremely close to other people when talking and has a pretty quick temper; and Senga Kento who is stylish and good at his work, but is somewhat blur and oddly harsh towards females but lenient with males. The foursome grapple with the challenges which appear inside and outside the company although they are in danger of being laid off.

http://mydramalist.com/11504-heisei-busaiku-salaryman
Comment
Hi I am making subs while watching some shows that are not subbed and don't look like someone will sub them in the future. The episodes are only ~90-95%-subbed and the translation/english might be lacking a bit. I try to translate as much as possible and as accurate as possible but I never really studied japanese so there are some words and phrases I don't get. also this is one of my first projects.
Subtitles & RAWs
I didn't make simple srt-subs but have some color in it and placed text from time to time. I use mediaplayer classic to watch and everything workes for me.
I downloaded the raws of the show from the site here http://www.dramaonline.us/drama-info/heisei-busaiku-salaryman.html (can be done for example with JDownloader or Videodownloadhelper) - just saying this because there are different raws out there with different timing...
New RAWs on hoster MEGA to download here http://gagapapillon.livejournal.com/568.html thanks to norange. to watch just put the raw and the sub into the same directory and give them the same name (or load subs manually with your player).
I uploaded the old subs again with timing for the new RAWs
and I give all subs I do for these RAWs the
v2
in name.
V2 of Eps 1-3 are just re-timed and minor corrections in text - if any.
Ep04v2 has some more changes.
old versions of the subs: