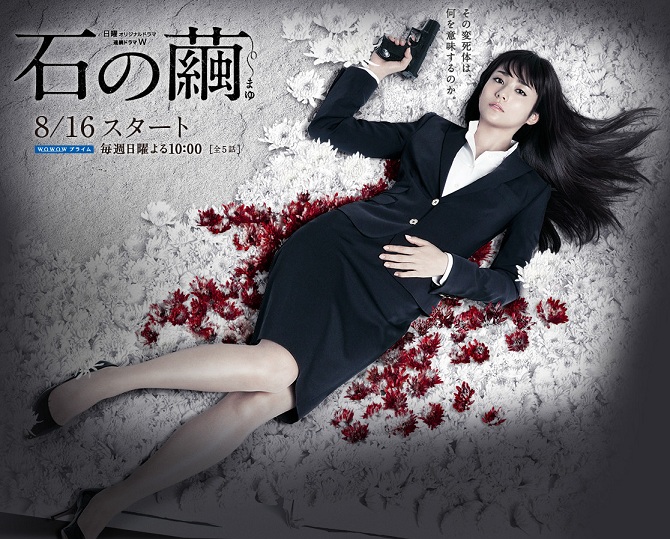 Title: 石の繭
Title (romaji): Ishi no Mayu
Format: Renzoku
Genre: Mystery, crime
Episodes: 5
Broadcast network: WOWOW
Broadcast period: 2015-Aug-16 to 2015-Sep-13
Air time: Sunday 22:00
Synopsis
The body of a person who died an unnatural death is discovered encased in mortar like concrete in the basement of an abandoned building. Why was the person murdered this way? The next day, the investigation task force receives a phone call from the criminal who calls himself Toremi during a meeting to discuss the investigation of the case. Then, in a short time after her transfer to the First Investigative Division, Kisaragi Toko becomes the negotiator. Toremi mocks and provokes the police while offering hints regarding the murder. A second murder soon occurs just as Toremi had warned. The victim's head has been covered with concrete as they had expected. What is the criminal's motive and why is the criminal fixated with concrete? The criminal's surprising actual target soon emerges..-Jdrama weblog
---------------------------------------------------------------------------------------------------------------------------------------------------------
Hi, I've decided to sub this drama.This is my first time and I'm still learning the language so they won't be 100% accurate but I'll try my best to minimize the mistakes. Please feel free to point out any errors or share advice in the comments below. Initially I wasn't confident enough to work on this project because WOWOW doesn't provide Japanese subs. However, this is one of my most anticipated dramas of the season (it was a long wait) and upon watching the first episode, I think it's too good to go unnoticed. So I thought might as well give it a shot. I will try my best to release the subs every week. Only 4 more episodes to go so I hope this project will go smoothly
Translation: avieamber, SF_Teoh (my cousin)
Timing/quality check: avieamber
Timed to the raw 720p version from this korean torrent site. 480p is now up at nyaa.se.
http://torrentzo.net/bbs/board.php?bo_t ... dVnI5co-xx
For more information or get an idea what this show is about, you can visit my blog as I've recapped/reviewed the first episode:
https://ritsunodoramaland.wordpress.com/
Lastly, I apologize in advance for any mistakes. Also, I hope you'll enjoy this drama!
EDIT: Just realized a mistake in the sub - around 23:43min Takano should be saying 'North of Hibiya-dori' and not 'rooftop'. *hokujou and okujou* sounds too similar
I'll attach a new edited sub which I've also fixed the styling. Please try both ASS and SRT versions to see which works best for you
UPDATE:
Episode 2 sub released - 26 August 2015
Timed to furransu's
RAW
.
Episode 3 sub released - 2 September 2015
Episode 4 sub released - 10 September 2015
Episode 5 sub released - 16 September 2015