Lunch no Akkochan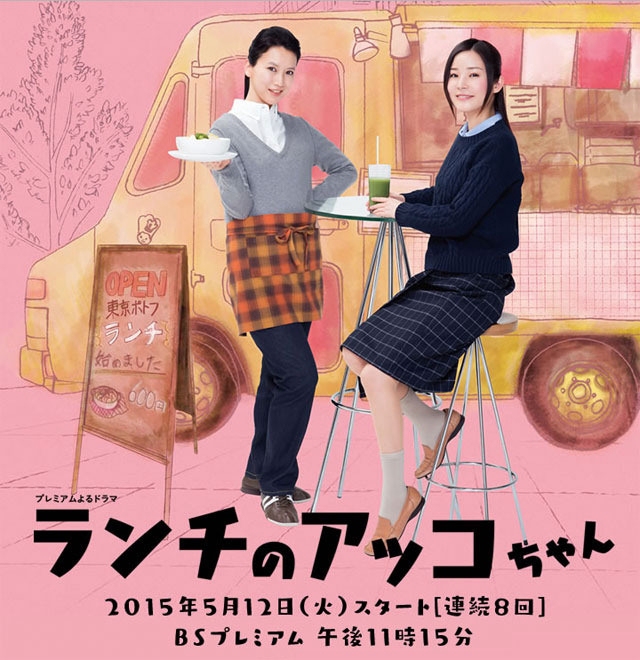 Official Website :
http://www.nhk.or.jp/pyd/akkochan
Broadcast :
Tuesdays, 11.15 – 11.54 p.m., from 12 May 2015
Station :
NHK BS Premium
Characters
Renbutsu Misako as Sawada Michiko
Toda Naho as Kurokawa Atsuko
Noro Kayo as Harada Chihiro
Narita Ryo as Sasayama Ryuichiro
Horiuchi Keiko as Shimizu Kimiko
Tsurumi Shingo as Manager Yamakawa
Tayama Ryosei as Igawa Yoshio
Might as well share the Japanese re-times I made of this yorudora. These are based from the subtitles provided by JPSubbers.
I honestly was watching this weekly whenever the DoA raws are out. Had plans to fan translate to English, but luckily,
TrollSubs picked it up
:3 As I have two series I'm still juggling to finish, it's really a very good news that somebody else picked it up for people that rely on English subtitles to appreciate such very nice foodpr0n yorudora series. Yay! Less work for me X3
Note: They are only timed for DoA raws, but I think it will also work for other raws.
第1回 - 5月12日 - 恐怖のアッコちゃん
第2回 - 5月19日 - 屋上のアッコちゃん
第3回 - 5月26日 - 三智子とカレーとアッコちゃん
第4回 - 6月2日 - ポトフのアッコちゃん
第5回 - 6月9日 - 夜食のアッコちゃん
第6回 - 6月16日 - バレンタインのアッコちゃん
第7回 - 6月23日 - 3時のアッコちゃん
最終回 - 6月30日 - さよならアッコちゃん