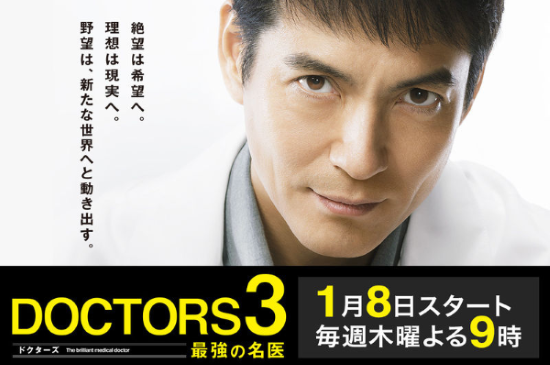 Synopsis
The third season of DOCTORS is here! Director Dougami Tamaki has gone to her long-awaited around the world trip while her nephew Moriyama Suguru has been left to take care of Dougami General Hospital as the interim director.
Cast
Sawamura Ikki as Sagara Kosuke
Takashima Masanobu as Moriyama Suguru
Higa Manami as Miyabe Sachi
Kurokawa Tomoka as Aihara Ami
Miyaji Masako as Tamura Tokiko
Masana Bokuzo as Sasai Kei
Takizawa Saori as Shibuya Shouko
Atsushi as Takaizumi Kenya
Saito Yoichiro as Senju Yoshiro
Ozaki Usoh as Danbara Tamotsu
Anami Atsuko as Yoshikawa Mizuki
Kohinata Fumiyo as Matsuda Yoshio
Sasai Eisuke as Moroboshi Kiichi
Ono Takehiko as Momoi Shoichi
Ito Ran as Minagawa Kazue
Nogiwa Yoko as Dougami Tamaki
The subtitles are timed for the raws provided by furransu and VampireXxX. You can find them on furransu's blog
J-Drama City
and
nyaa.se
respectively.