Akumu-chan Special Character Chart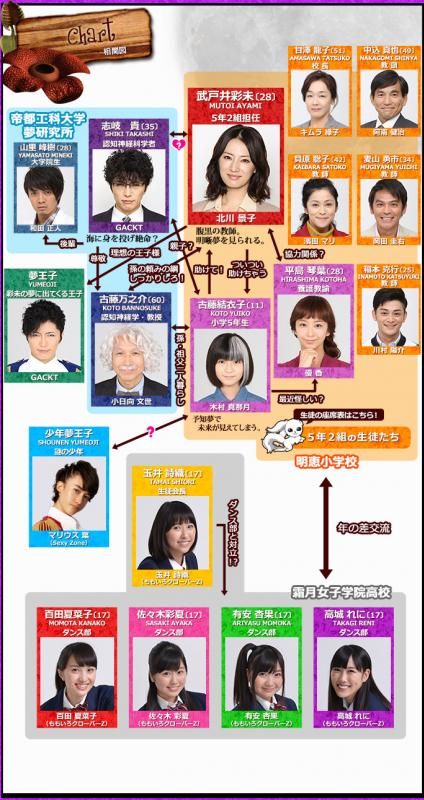 Official Japanese site for the SP -
http://www.ntv.co.jp/akumu/sp/index.html
JP/CHN file can be found on D-Addicts or you can find the raw file from JDC - links to both are found on my LiveJournal
http://luffynotomo.livejournal.com/4942.html
Akumu-chan SP continues from where the TV series left off and then the MOVIE will continue from where the SP last leaves off
悪夢ちゃん Akumu-chan or Nightmare Kid ---> Official Japanese site -
http://www.ntv.co.jp/akumu/
Drama Wiki site
http://wiki.d-addicts.com/Akumu-chan
Story::
Dreams bleed into reality and nightmares from people's unconsciousness become a person's tragic future. A little girl is the only one to see these nightmares and with the help of her grandpa and teacher they will try to prevent these tragic prophecies!
SONG LYRICS in English
the fan art i made and the songs - can be seen and the songs can be dled on my DA, if this site ever goes down again, i will place subs here on my DA
http://luffynotomo.deviantart.com/#/d5i27b0
Note that translations I make are not always perfect - i do have faults that others sometimes point out - so thank you - i try my best to make the translations as accurate as possible~!
NOTE:
[Difference in Age Exchange:Performance Showdown:*Play-Cinderella, Momotarou, Monkey King, *Manga Presentation, *Dinosaur History, *Rakugo]
The list of things here are well known plays - some you may know such as Cinderella but others such as Momotarou and the Monkey King are famous in Japan and other Asian cultures - if you want more info you can look them up. Also, Rakugo is like Japanese stand-up comedy
HOW I MAKE SUBS
- i do all of this myself & thanks to those who want to help but that's not necessary - i hope i get subs out to people's liking - thank you all for waiting~! <3
1. DL and watch episode
2. Make translation
3. Time the subs to the video
4. Final check to make sure the subs match the video file and everything looks good
5. Release sub file on D'Addicts :3
Using my English subs!
All people who want to use my English subs to make subtitles in other languages may do so as long as you give me credit like this:: English subs by LuffyNoTomo
Thank you for asking me, that's always nice!
However, I will not allow anyone to edit or change my English subs in anyway to remake other English subs! Please just make your own English subs if you do not like the ones I make, thanks for understanding.
SLIGHTLY UPDATED ONE PART A FEW SECONDS AFTER INNITAL UPLOAD