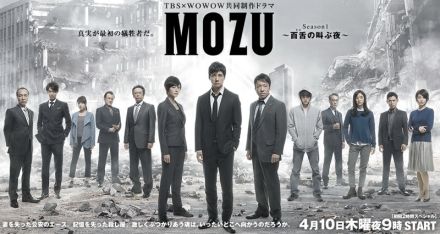 Shrike (MOZU) Season 1 - Cries of the Night
Director:
Eiichiro Hasumi
Writer:
Kosuke Nishi
Music:
Kanno Yugo
Based on:
'The Shrike Series' by Go Osaka
Production by:
ROBOT, WOWOW & TBS.
Season Premiere:
April 10, 2014
Season Finale:
June 12, 2014
Selected Main Cast (In Japanese word order.)
Nishijima Hidetoshi as Kuraki Naotake
Kagawa Teruyuki as Osugi Ryota
Maki Yoko as Akeboshi Miki
Synopsis
"No one should be able to understand the nature of others, our impulse."
Sirens echo through the chilling air of a winter's afternoon in Tokyo. As the dust clears and the debris settles on the crimson stained concrete, headlines of a possible terrorist attack clutters television screens and newspaper pages across the country, as the lives and hearts of many, intertwine. An unrelenting inspector of the Public Safety Bureau's Division One, Kuraki, begins to walk down a path of entangled lies as he desperately seeks out the one absolute truth for why his beloved wife had to die in such an incident. An experienced Police Lieutenant, Osugi, from the Criminal Investigation Bureau's Division One, is hot on the trail of Kuraki's past after a chance encounter. All the while, a shady and mysterious female officer of the Public Safety Bureau's Division Two, Akeboshi, encircles Kuraki on the orders of a seemingly unscrupulous man wearing the crown of a king on the underside of the Metropolitan Police Department's chess board. Conspiracies, secrets, lies and cold-blooded killings twist the path of an ominous storm rolling in, as those from the criminal underworld and the police force demonstrate just how fine the thin blue line can be. Wallowing in hollowness as the darkness begins to shroud, this is the only time anyone can truly hear it, the lullaby of the shrike, the cries of the night.
(Synopsis written by Miharu-Rush, feel free to use it as long as you don't take credit for it)
:D
RAWS
Doramax RAWS (480p)
Extra special thanks to Tavares for mini-encoding and sharing these!
ADaoiL RAWS (720p)
Extra special thanks to pure19 for uploading these!
YYeTs RAWS (720p CHI/JPN Hardsubbed)
Extra special thanks to Micehell for uploading these!
Furransu's RAWS (480p)
Extra special thanks to Furransu for uploading these torrents!
Notes
I was surprised to see no one had subbed this brilliant J-drama (edit: on D-addicts), so I decided to subtitle it myself. I've tried my best to ensure the translation is as accurate as possible, without being too literal of course.
Super special thanks to Vultural for streamlining my subtitles into srt format.
Please support the official release if possible.
These subtitles are ABSOLUTELY NOT INTENDED FOR Selling, Renting, Streaming, Profiteering or/and other possibly illegal acts!!! Do not do or support these actions!!!
Please terminate your subtitle files once this series has been licensed in your region.
Miharu-Rush is not responsible for the management of content in the internet links above!
Other series I've subbed
MOZU - Season 02
Please ensure to rename the raw video file with the name of the subtitles or vice versa.
Note: Sorry for all the revisions though please keep in mind that this is the first series I've ever subbed and I'm a bit of a perfectionist