Shakking 2 ~ Unmei no Hoshu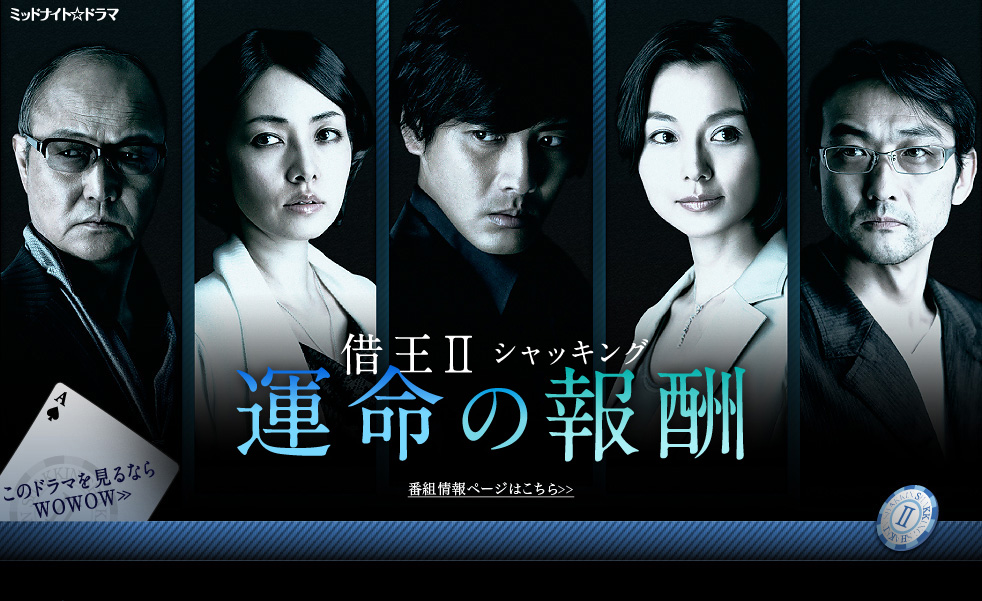 Title:
借王<シャッキング>2 -運命の報酬-
Broadcast network:
WOWOW
Broadcast period:
2011-Jan-08 to 2011-Feb-26
Air time:
Saturdays 12:00-12:30
Synopsis:
Hongo Keisuke (Nakamura Shunsuke) is the president of a loan company with a debt of 900 million yen along with securities analyst Kuroki Miho (Honjo Manami) and former cop Koshikawa Motohiro (Fukikoshi Mitsuru). Together, the three of them must use their powers of deceit and trickery to accumulate enough money to repay their debt. Like the previous series, "Shakking 2″ will be full of suspense, but it will also weave in a love story. (Read more at
tokyograph.com
and
jdramas.wordpress.com
).
Cast:
Nakamura Shunsuke
Honjo Manami
Fukikoshi Mitsuru
Masu Takeshi
Sano Shiro
Osugi Ren
Ishibashi Renji
Kirishima Reika
http://www.wowow.co.jp/drama/king2/
Taken from clubbox. Korean subtitles for episodes 1-7 only (I couldn't find the subs for episode 8 ). Converted to .ass but I also included original .smi files.

RAWS can be found here.