Hello, guys!
Since our blog is no longer available (and so is our previous account @ d-a), you can find all our subs on our DropBox account or here, at d-addicts. We hope you'll enjoy watching this drama with our subtitles. Thank you for the continued support!
PS If you have any re-synced subtitles, please share them! Thank you.
PLEASE DO NOT RE-POST THESE SUBTITLES AND CLAIM THEM AS YOUR OWN. DO NOT USE THEM FOR ANY MONETARY GAIN.
DO NOT HARDSUB/STREAM OUR SUBS!!
Haru Haru Subs Presents,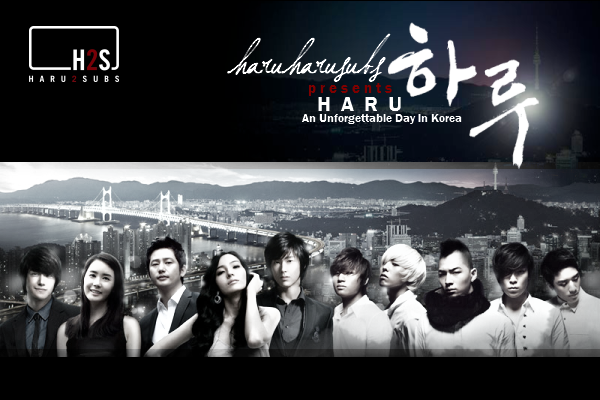 하루 / Haru Special

Title:
키하루 / Haru Special / Haru: an Unforgettable Day in Korea
Genre:
Action, Romantic comedy, Drama
Episodes:
1
Broadcasted via:
website
www.haru2010.com
Aired on:
2010-Sep-24
This web drama is produced by Korean National Tourism Organization to honor 2010 as Korean Visiting Year
Synopsis:
The story happens in 1 day time, center around scenario writer (Lee Dae Hae) who will perform love triangle with Kim Bum and U-Know Yunho. Han Chae Young and Park Shi Hoo play the couple in Lee Dae Hae's scenario, and Big Bang is a group that finds a school that is being shut down and holds a mini-concert for the students.
Cast:
U-Know Yunho as A romantic and tough action actor
Han Chae Young as A sexy stylist
Park Shi Hoo as A cute mischievous café manager
Lee Dae Hae as A beautiful script writer
Kim Bum as A photographer with gentle heart
BIGBANG as Energetic idol stars
COMMENTS? SUGGESTIONS ABOUT OUR ENGLISH SUBTITLES? WE WANT TO HEAR YOU SPEAK! PLEASE GIVE YOUR COMMENTS TO US ABOUT OUR ENGLISH SUBTITLES AT, haru2subs@gmail.com
Subtitles:
These subtitles are synced with the XviD version!
CREDITS:
EPISODE 1 (FINAL)
Main Translator: boricha.
Spot Translator: songbird
Timer & Editor/QC: methuongcon
Coordinators: sayroo, methuongcon