Poplar no Aki
ポプラの秋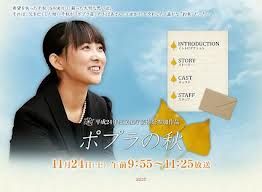 Translation and Timing: Samshikmomo
A big thanks to isabelh2o2 for checking my English!
Broadcast Network: FNN
Broadcast Date: November 24, 2012
Produced by KTV (Kansai TV)
Story: Chiaki was living in despair. One day her mother calls her to tell her about the death of an old lady, Haru-san who was their landlord. The news of her death made Chiaki remember the old promise she made with Haru-san.
Casts
Tanimura Mitsuki / Tani Kanon as Hoshino Chiaki
Moriguchi Youko as Hoshino Tsukasa
Enami Kyouko as Yamamoto Haru
Harukawa Kyousuke as Nishioka Osamu
Koumoto Masahiro as Funeral Director
Original novel: "Popura no Aki" by Yumoto Kazumi
Script writer: Konoe Hana
Music: Mochizuki Eisuke
Producer: Kasaoki Takahiro
Director: Kimura Jun
Info:
http://www.ktv.jp/poplar/index.html
The raw:
http://www.d-addicts.com/forum/viewtopic_p1553896.htm
Thanks to XrayMind for uploading this drama: