Oyaji Battle! (SP)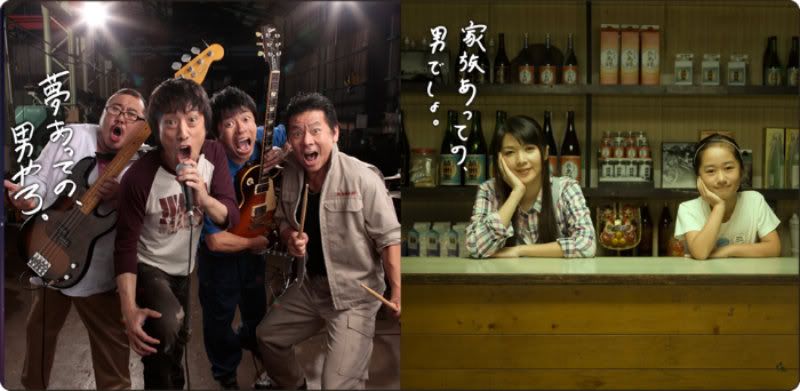 This is a local drama made by NHK Fukuoka in Kyushu.
Oyaji (オヤジ、親爺、親父) means one's father, the old man, also the boss. A man who is old enough to be a father is Oyaji.
Oyaji Battle is a real band contest televised every year in Japan. The average age of each band must be over 40.
I made my previous subs (Koi Aji Oyako
http://www.d-addicts.com/forum/viewtopic_110293.htm
) for Mother's Day.
Oyaji Battle! subs are for Father's Day. I hope you'll like this drama as much as I do.
The raw:
http://www.d-addicts.com/forum/viewtopic_p1494040.htm?sid=7120687303d0311940dc8b98e10d4f96#1494040
Subs: Translation and Timing by Samshikmomo
Format: Tanpatsu (SP)
Length: 1hr 13min
Broadcast network: NHK
Broadcast date: Feb 11, 2012, re-broadcasted on May 20, 2012
Synopsis:
A story about four middle-aged men who reunite to pursue their dream again and work toward a band contest "Oyaji Battle".
They support each other to overcome obstacles, and are supported by their families and neighbors.
Casts
Kakei Toshio as Maeda Toshiyuki (43 yrs old; vocal)
Iijima Naoko as Maeda Yasuko (43)
Imoaraiza Kakarichou as Ken'ichi (43; Bass)
Okamato Akira as Minoru (43; Guitar)
Imai Masayuki as Gonzo Senpai (45; Drums)
Script writer: Habara Daisuke (He also wrote movies, Hula Girls and Pacchigi! Love and Peace)
Director: Koike A.
Info:
http://www.nhk.or.jp/fukuoka/drama/oyaji/index.html
I would like to thank isabelh2o2 for proofreading my subs and uploading the raw.
感謝・感謝・感謝