Here you go, my first project. This is one awesome drama I hope you'll like it too. The first episode was translated at dramacrazy.net(do check out their website as it has a lot of new and old dramas and movies
http://www.dramacrazy.net/
) and I edited and timed it.
They might not be perfect, but I did my best in completing them. A lot of you were interested in the subtiltes for this drama, so I'll try to complete them all. I got a lot of help from Katsumii, thank you.
Hero OCN channel 2012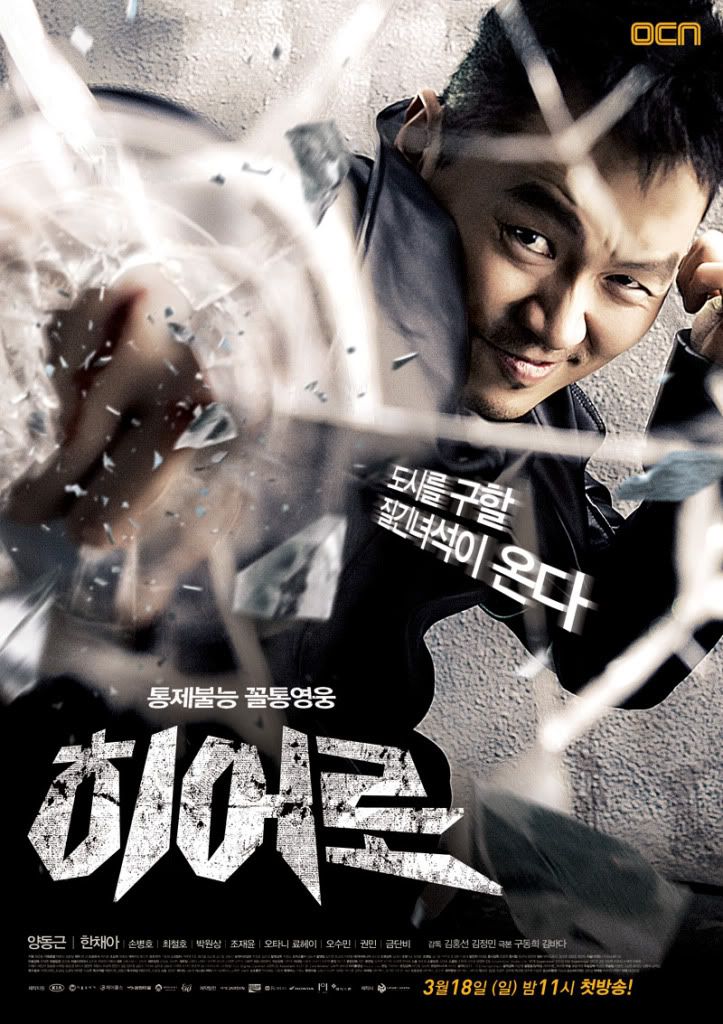 Title: 히어로 / Hero
Chinese Title: 英雄
Genre: Action, Fantasy
Episodes: 9
Broadcast network: OCN
Broadcast period: 2012-Mar-18 to 2012-May
Air time: Sunday 23:00
Synopsis
A fantasy drama set in the year of 2020 in the fictional city of Muyoung which is full of corruption.
Kim Heok Chul (Yang Dong Geun) obtains a superhuman power by a special chance. fights against the corruption plaguing the city of Mooyoung.
Cast
(koreandrama.org)
Yang Dong Geun as Kim Heok Chul
Han Chae Ah as Yoon Yi On
Son Byung Ho as Kim Hoon
Choi Chul Ho as Kim Myung Chul
Park Won Sang as Kweon Hyeok Kyu
Jo Jae Yoon as Yang Joon
Kwon Min as Shin Dong Min
Geum Dan Bi as Kim Na Ra
Ryohei Otani as Lee Jae In
Oh Soo Min as Jang Chae Ok
Kim Sung Hoon as Han Yong Joo
Director: Kim Hong Sun
Screenwriter: Goo Dong Hoi