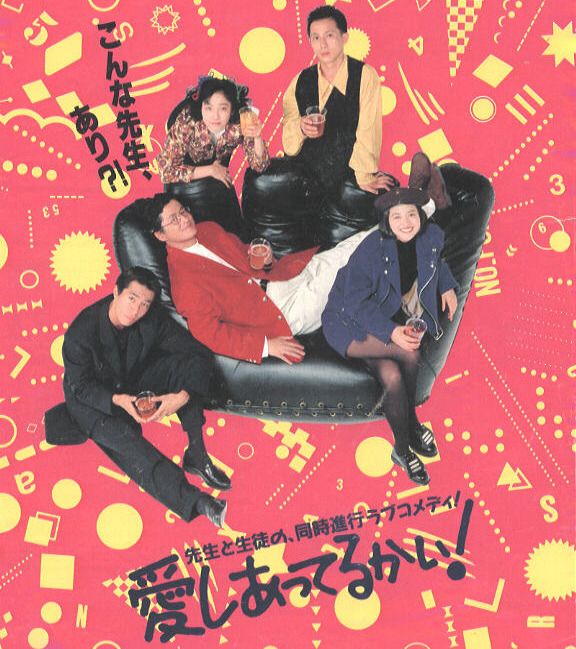 Title: 愛しあってるかい!
Title (romaji): Aishiatteru Kai
Format: Renzoku
Genre: Comedy
Episodes: 10 + SP
Broadcast network: Fuji TV
Broadcast period: 1989-Oct-16 to 1989-Dec-18

Synopsis:
Fubuki is a young female teacher in a girl's college. Being quite new, she's unexperienced in many ways, eg. advising students on love problems. However, she gets to know three male teachers from a nearby boy's college one day, and these three people are playing as crazily as their students. They go after girls, ... and behave very differently from what a teacher should behave. Though as such, they're in fact good teachers, who always stand by their students, and help them out in every way they can. This gradually changes Fubuki's poor impression of them and touches her heart. --Snowflakes
Cast:
Koizumi Kyoko as Fubuki
Jinnai Takanori as Ippei
Yanagiba Toshiro as Takumi
Kondo Atsushi as Makoto
Fujita Tomoko as Satomi
Toyota Maho as Miki
Tanaka Ritsuko as Jun
Wakui Emi as Shinobu
Oshima Satoko as Dr. Chieko
Translation: Nippon Golden Network (NGN)
Transcription/Timings: BigTicket
RAWs are available at
http://raredoramas.info/page/aishiatteru-kai-1989
thanks to
xaxa
(Thank you very much!)

Notes:
99% of this is straight from the NGN version that originally aired in 1990. Some lines/scenes were missing so with the help of my cousin I was able to fill in what was either cut or skipped by the original translation.