Constellar Subs Presents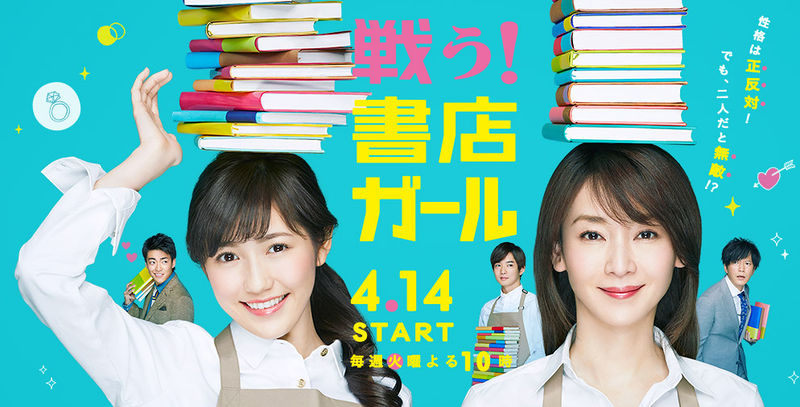 Tatakau! Shoten Girl [Indonesian Subs]
Story:
Pegasus Bookstore is going through hard times due to competition from internet bookstores. Kitamura Aki and Nishioka Riko are employees at Pegasus Bookstore. Aki Kitamura is 23 years old. She has a strong will and freewheeling personality. She places her job and dreams above marriage. Riko Nishioka is a 40-year-old single woman. She is the vice-manager at the bookstore. She has pride in her work. The two women have completely different personalities.
Details:
Title: 戦う!書店ガール
Title (romaji): Tatakau! Shoten Girl
Also known as: Fight! Bookstore Girl; Tatakau! Shoten Garu;
Genre: Occupational, Romance
Episodes: 10 (To be Confirmed)
Broadcast network: Fuji TV
Release Date: 14 April 2015
Air time: Tuesday 22.00
Catatan:
Mohon dimaklumi apabila ada salah terjemahan atau salah ketik.
Kalau ingin tahu proyek apa aja yang aku garap buat drama sub indo, bisa kunjungi blog aku :
Constellar Subs
Aku juga menyediakan versi hardsub, silahkan kunjungi
Constellar Subs
untuk mendapatkan versi hardsub dari drama ini
Disarankan untuk menginstal Font yang tersedia agar sub terbaca lebih baik.
Softsub berikutnya mungkin sudah dirilis, tapi yang versi hardsub. Softsub akan dirilis setelah episode mendatang dirilis,,,
Contohnya, softsub episode 2 akan dirilis setelah aku merilis hardsub untuk episode 3 di blog. Begitu juga untuk episode mendatang
Jadi untuk mengecheck apakah softsub akan dirilis atau tidak, silahkan kunjungi
Constellar Subs
Credit
TL : Ariel Nugie
RAW: X625
Imoutosubs
Update
- Added Sub Episode 01
- Added sub Episode 02
- Added sub Episode 03
- Added sub Episode 04
- Added all episodes