Constellar Subs Presents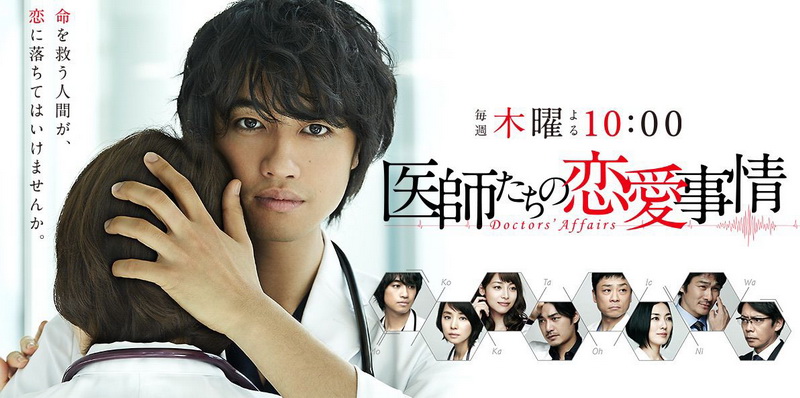 Ishitachi no Renai Jijou [Indonesian Subs]
Story:
Morita Haruki is a surgeon who only thinks about saving patients 24 hours a day, every day. A compassionate man with a strong sense of justice, he pushes back against the university hospital system which prioritises profit and power. However, he has forgotten how to love because he has put work before romance and his hectic job. Haruki takes a position at a university hospital out of a desire to hone his skills as a surgeon. But it is a place where all sorts of desires swirl. He meets Kondo Chizuru, a surgeon who is his senior, here. Chizuru has been very wrapped up in her work and is now past marriageable age. He gets attracted to her little by little
Details:
Title: 医師たちの恋愛事情
Title (romaji): Ishitachi no Renai Jijou
Also known as: Doctors' Affairs
Format: Renzoku
Genre: Romance, medical
Episodes: TBD
Broadcast network: Fuji TV
Broadcast period: 2015-Apr-09 start
Air time: Thursday 22:00
Theme song: Don't be love by Shishido Kavka
Cast:
Saito Takumi as Morita Haruki
Ishida Yuriko as Kondo Chizuru
Aibu Saki as Kawai Nana
Hirayama Hiroyuki as Takahashi Sotaro
Miyake Hiroki as Oone Ryota
Ihara Tsuyoshi as Nishi Yusuke
Itaya Yuka as Ichikawa Tomoko
Namase Katsuhisa as Watanabe Mikio
Catatan:
Mohon dimaklumi apabila ada salah terjemahan atau salah ketik.
Kalau ingin tahu proyek apa aja yang aku garap buat drama sub indo, bisa kunjungi blog aku :
Constellar Subs
Aku juga menyediakan versi hardsub, silahkan kunjungi
Constellar Subs
untuk mendapatkan versi hardsub dari drama ini
Disarankan untuk menginstal Font yang tersedia agar sub terbaca lebih baik.
Softsub berikutnya mungkin sudah dirilis, tapi yang versi hardsub. Softsub akan dirilis setelah episode mendatang dirilis,,,
Contohnya, softsub episode 2 akan dirilis setelah aku merilis hardsub untuk episode 3 di blog. Begitu juga untuk episode mendatang
Jadi untuk mengecheck apakah softsub akan dirilis atau tidak, silahkan kunjungi
Constellar Subs
Credit
Raw : Thanks to Jdramacity
TL : Ariel Nugie
Update
- Added Sub Episode 01
- Added Sub Episode 02
- Added Sub Episode 03