ON [Eng Subs] (Complete)
Posted: Wed Apr 12, 2017 7:51 pm
ON: Abnormal Investigator Todo Hinako
Start date:
2016 July 12, 9 PM
Aired:
Tuesdays, 10PM on Fuji TV
Theme Song:
Swan by Alexandros
Main Cast:
Haru as Officer Hinako Todo; Yu Yokoyama as Officer Yasuhisa Shoji; Jun Kaname as Officer Keiichiro Kurashima; Kento Hayashi as Dr. Tamotsu Nakajima, Psychiatrist; Mieko Harada as Dr. Taeko Ishigami, Medical Examiner; Atsuro Watabe as Officer Iwao Atsuta, leader of the Metropolitan Police Department (MPD)'s Criminal Investigation Division (CID), 1st Unit
Based on the novel "ON Ijo Hanzai Sosakan Todo Hinako" by Ryo Naito.
Correlation chart: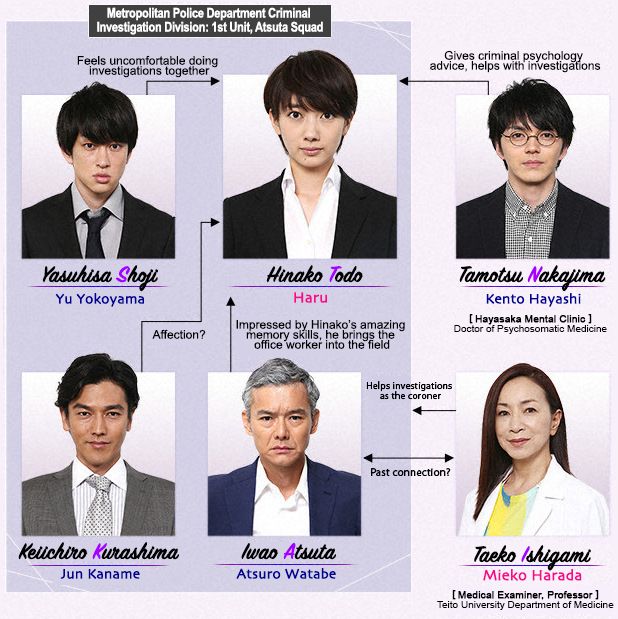 Abbreviations I used in the subs:
HQ - Headquarters
CID - Criminal Investigation Division
MPD - Metropolitan Police Department (Tokyo)
NPA - National Police Agency
TDC - Tokyo Detention Center
MHLW - Ministry of Health, Labor & Welfare
SNRC - As far as I can tell, it's based on a real place; only its name is the NCNP (National Center of Neurology and Psychiatry). I had to tweak the English name a bit to translate literally to fit the SNRC acronym
CI - Confidential Informant
CO - Correctional Officer (Prison Guard)
PP - Prefectural Police
MO - Modus Operandi (Methodology, approach)
HS - High School
PM - Private message
I'm not sure how much longer I'll be using my LJ, so to avoid any sort of chaos I've decided to re-upload the subs here.