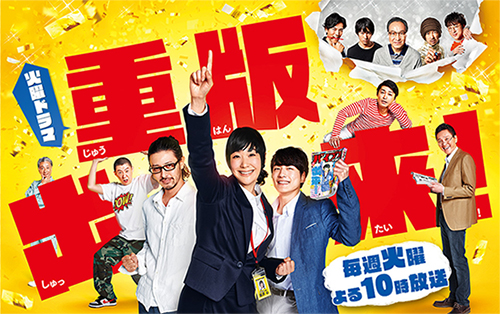 Starring:
Kuroki Haru, Odagiri Joe, Sakaguchi Kentaro, Arakawa Yoshiyoshi, Hamada Mari, Nono Sumika, Nagaoka Tasuku, Maeno Tomoya, Takeda Rina, Mogami Moga, Tomiyama Eriko
Synopsis:
Former Olympic judo team candidate Kurosawa Kokoro (Kuroki Haru) joins major publisher Koutokan as a new graduate and is assigned to the editorial department of weekly magazine "Weekly Vibes". There she finds the unique members of the editorial team and Kokoro learns the basics of editing from her senior, Iokibe (Odagiri Joe). She observes the honest activities of attending briefing sessions with artists in charge of weekly serials, discovering rookie manga artists, and attending meetings to decide the number of copies of a manga, all in order to get "Juhan Shuttai" - a second printing. Kokoro gets fired up saying "I want to get juhan shuttai too!" but the publishing industry is never sweet.
For progress updates, check
@mfsubs.
Note:
I'm learning Japanese, so there are almost definitely some inaccuracies. Files are timed to jdramacity raws. It'd be helpful if anyone re-times for other versions, as I don't intend to download multiple versions.
Hope you enjoy this drama!
Episode 1 translation notes
Episode 2 translation notes
Episode 3 translation notes
Episode 4 translation notes
Episode 5 translation notes
Episode 6 translation notes
Episode 7 translation notes
Episode 8 translation notes
Episode 9 translation notes
Episode 10 translation notes