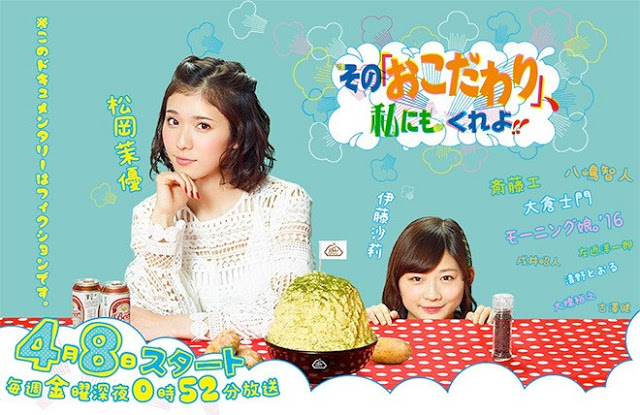 Summary from jdramas.wordpress.com:
As emcees of a fictitious variety programme, Matsuoka Mayu and Ito Sairi interview people with fixations in everyday life to find out what is difficult for others to understand, but makes the person happy.
Ito Sairi plays kind of KY character and Matsuoka Mayu tries her best so that the program won't end up as a disaster
The word
okodawari
has couple of meanings, more or less similar, I tried to use most appropriate one per situation. Obsession is maybe a bit too harsh, but after thinking a too much about it I just left it like that. If you have any suggestions about the choice of words or how I've translated the title(this worries me the most), please, don't hesitate.
There was quite a lot of onscreen messages, which frankly took me a lot of time to make, please tell me if there are any problems with them. Actors are speaking quite fast, I tried to match the timing but I think everyone will just have to pause to read the subtitles.
Edit: Forgot to mention it:
subtitles synced to raw from
Jdramacity
(Thanks!)
translated using subs found on jpsubbers
Enjoy!