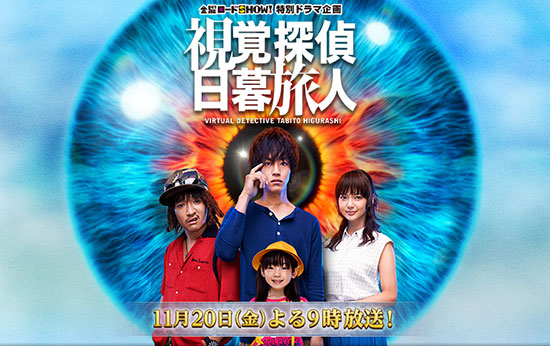 Shikaku Tantei Higurashi Tabito SP
Virtual Detective Tabito Higurashi
Director:
Tsutsumi Yukihiko
Aired:
November 20, 2015 (NTV)
Starring:
Matsuzaka Tori, Tabe Mikako, Hamada Gaku, Kinami Haruka, Sumida Moeno
Synopsis:
Due to an incident from his past, Tabito Higurashi (Tori Matsuzaka) lost his hearing, sense of smell, taste and touch. He only has his sense of sight left. Nevertheless, Tabito Higurashi is a private detective who finds lost things using his sense of sight.
Tabito Higurashi live at a private detective office with his partner Masahiko Yukiji (Gaku Hamada) and daughter Tei Momoshiro (Moeno Sumida) who is not blood-related to Tabito. Yoko Yamakawa (Mikako Tabe) is a nursing teacher. She meets Tabito and Masahiko through Tei. Yoko asks Tabito to find a lost article which is important to her. Since then, Yoko visits Tabito's office often. While trying to solve Yoko's case, Tabito's eyes become exhausted. His partner Masahiko becomes worried over Tabito's condition.
One day, Tei goes missing. To find his daughter, Tabito uses his eyes, but his doctor tells Tabito "if you keep doing this, you will go blind."
Source
Note:
Timed to jdramacity raw.
Please install the font in the .zip for best viewing. The font is called Signika, so if you already have it the .ass file is also uploaded separately.
I'm not a very experienced subber so there may be errors. Do feel free to point out mistakes and I'll try my best to fix them.