Total Episodes: 11
Main Cast
The Girls:
* Race Wong Yuen Ling Yuen Ling as Cheng Ka Lam
* Natalie Tong Si Wing as Ko Ching
* Renee Dai Mong Mong as Wong Miu Yee ("Dai Jek Miu")
* Elaine Yiu Zhi Ling as Lam Suet Man ("Man Man")
* Kelly Fu Ga Lei as Chui Kam Mui ("13 Mui")
The Guys:
* Chris Lai Lok Yi as Au Yeung Yat
* Don Li Yat Long as Au Yeung Lok
* Eddie Lee Yu Yeung as Chu Moon Tong (Don)
* Sam Chan Yu Sum as Kwan Yu Lung
Story
This series is based on college life, love, and one sport - fencing. The story starts off with Cheng Ka Lam (Race Wong and her aunt, Mei (Eileen Yeow), trying to put together a newspaper group with at least 5 people for the school magazine. Lam makes a bet with her aunt and ends up winning with 5 people joining: Man Man (Elaine Yiu), Ah Ching (Natalie Tong), who are Lam's best friends, and two more girls, Dai Sik Mui (Renee Dai), and 13 Mui (Kelly Fu). These 5 girls work together to create the school's magazines and soon becomes the best of friends.
Four guys, Ah Yat (Chris Lai), Ah Lok (Don Li), Don (Eddie Lee, and Lung (Sam Chan), all had a rough start with each other. Ah Yat and Ah Lok are close brothers and their relationship is like most brothers, happiness, some bickering, but very little, and love. Don and Lung are friends ever since they were little, but is more of Don's little sidekick. Lung is very loyal to Don. These two "teams" are rivals and disliked each other. Mr. Sword (Edmond Leung), their fencing teacher, knows about this, and tries his best to make the "teams" work together by testing them in different ways.
(Drama Wiki)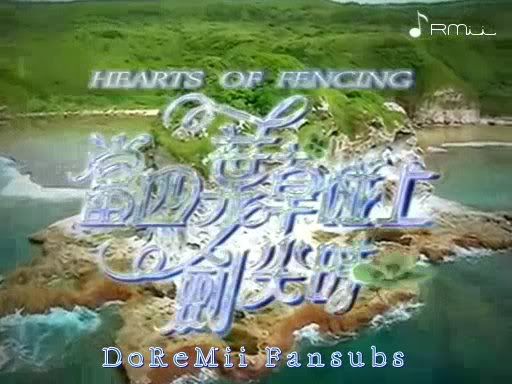 CREDITS:
Co-ordinator: malaymeetschinese
Translator: lil_aua_chic
Spot-Translator: BAAMx2 & stawbewii
Timer: serpentslion
Editor: angeliclovegal
QCer: Rasoberry Latte
Typesetter & Encoder: ccdj
File Information
Audio: Cantonese
Runtime: 0:43:22
Video Codec: h264
Bitrate: 857 kbps
Video Frame rate: 25 fps
Audio codec: MP3
Bitrate: 128 kbps
==================================================================================
Hosting Permissions
Please
DO NOT
upload any of our files to any streaming sites such as youtube, google video etc. Also we ask that you
DO NOT
upload ANY raw avi videos that we have uploaded here on torrents. Link to the torrents and the subtitles thread pages [no hot linking]. However we do welcome hosts [DDL] for all Hardsub editions of what we release, please ask permission though first of course.
Check the
Doremii blog
for the latest news and updates.
Seeding = LOVE
[/img]